The incident happened quickly, and even though I've read all the tips, I was caught off-guard. Thankfully nothing bad happened to any of us, but those split seconds and that moment stayed with me. I realized that one different choice earlier that morning might have left my children and me less vulnerable, and I resolved to change my habits for the future. Months later, I was glad I did.
My boys were tired after a morning of grocery shopping, and 4-year-old Josiah was in an especially nasty mood since he didn't like his temporary seat in the last row of our SUV. We were still praying and looking for a new vehicle that would fit all three car seats better. But as it was, he was relegated to the far back, and he hated it.
So the entire time I loaded the car, he was throwing an epic fit. It continued, gaining intensity and volume while I stood half-in and half-out of the SUV, trying to cinch his straps, leaning over the middle seats and Isaiah's car seat to do so.
Isaiah had been easier since he was barely 3-months-old and still staying in his infant carrier. All I had to do was click it in. Thankfully.
In the midst of threatening Josiah with punishment if he didn't settle down, I heard,
"Excuse me, ma'am."
Whirling around, I saw him.
The man was only a few feet away, standing near the back of our vehicle.
And I was immediately on alert (and praying).
Where had he come from? What did he want? Was he dangerous? Why was he bothering me when CLEARLY I was busy (Josiah was still crying in the background)?
In a split second, my mind was assessing everything from where my keys were (in my hand) to his size and build (my height or shorter, slim) to noticing if anyone else was nearby (not that I could see).
And that's when I realized how I had made this situation even more dangerous for myself.
(Besides being completely distracted from my surroundings by my squalling child)
It was in how I had parked in the parking lot.
Even though I had a parking space fairly close to the store, I had parked so that my driver's side, the side where I would be putting my kids into their seats, and therefore spending the most time, was facing AWAY from the store entrance.
No one could see me from the store.
My big, tall SUV with darkened windows was between me and my most likely source of help in a bad situation.  It was something I'd never thought of before.
When I didn't say anything, the man continued talking, "I'm sorry. I hate to bother you, but my girlfriend and I are trying to get to Canal (a town about 30-40 minutes away), and our gas light is on."
I mentally wondered where the girlfriend and car were. (While the small town we were in is relatively safe, it has a tragically big issue with drugs. Having served Grand Jury duty in the county a few years ago, I learned just how huge the problem is.)
So, yes, I was suspicious. Plus I had two little ones to consider, not just myself. I wasn't leaving them to go verify a story, and I wasn't inviting this man any closer for our own safety. (Had Brad been with me, we might have offered to have the guy follow us to a gas station, but by myself, I just didn't feel that was the wisest choice. Of course, had God prompted me to do something, I would have.)
"Sorry, I don't have any cash on me," I replied honestly.
The man started to back away, "Alright, well, thanks, anyway."
Watching him as he walked away, I was entirely aware of where he was headed as I closed the side door, climbed into the driver's seat, and locked the door.
He ended up a few aisles over, talking to a couple coming out of the store. I watched as he walked around the parking lot, stopping when he found a person to talk to. I never saw him go to "his" car, even though that particular parking lot isn't that big.
And I sat there, thanking God for His protection.
I decided to change my parking habits from that day on.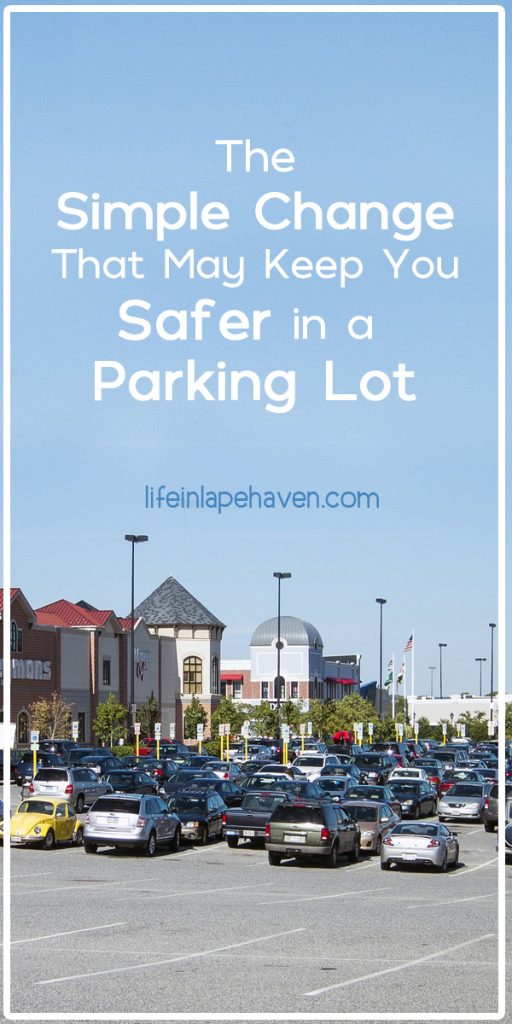 FAST FORWARD 5 MONTHS…
Last week, I had all three of my boys with me for a quick stop into the store, and as I pulled into the parking lot, I specifically thought about my encounter with the guy there. In fact, it was a rather STRONG nudging, the kind that come from God.
And I parked differently because of it.
I made sure that my side of our new-to-us minivan was facing the storefront. With Isaiah all but walking now, he rides in the cart, and we have the challenge of strapping his wiggly, grabbing-onto-everything-self back into his seat (behind the driver's seat) when we're leaving. It takes a lot longer than it used to.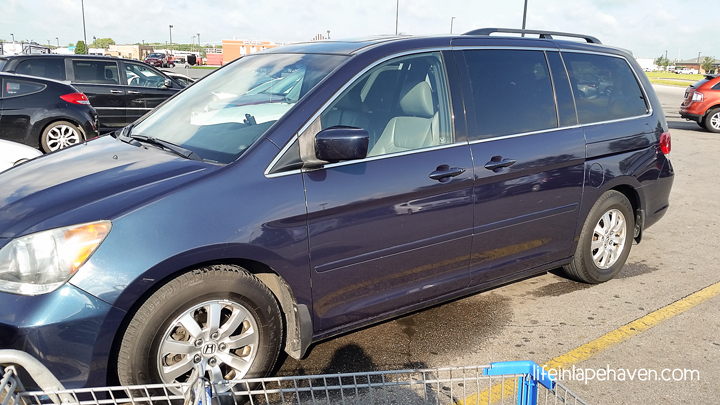 While no one was having a tantrum as we got back into the car to  go, it was still a very déjà vu feeling when I was tightening up Isaiah's straps, and I heard,
"Excuse me, ma'am."
It was the same guy. Standing the same distance away. And he told me the EXACT same story (which even my 7-year-old, who wasn't with us before, remembered me sharing about. It lent some credence to my prior suspicions that this guy probably wasn't really looking for gas money, sadly.)
Only this time, I felt safer because I knew that he hadn't been a real threat last time and also because I could clearly see people going in and coming out of the store – and they could see me.
All I could think of was, "I'm so glad that I listened to God's reminder about our previous meeting with this man and parked differently."
After sending him on his way yet again, I got back in my van, feeling much more in control than I had the last time I'd met that man.
I know that the simple change of how I parked (and having felt God's reminder to do so) is what made the difference.
Now I know that we don't want to live in fear or distrust of people around us, but the truth is that we live in a fallen world. Not everyone CAN be trusted, unfortunately, and we need to be wise in every situation, for us and our children.
As moms, it's especially easy for us to be distracted or have our hands full at pretty much any given moment, but perhaps implementing this little tip will give you a little more security in at least one part of your hectic day.
For more tips on being safe in parking lots and public garages, check out these sites: Parking Lot Safety and Staying Safe in Parking Lots.
YOU MIGHT ALSO LIKE:
How I Sabotaged Myself and Made A Bad Evening Worse
For Such A Time As This: Placing Our Children's Future in God's Hands