When my family went on vacation this summer, we went through Maryland, and when I saw a certain Maryland city on the map as we planned our journey, I got kind of nerdily excited.
What's in that town in Maryland, you ask?
Actually, it's the "who" that made the town remarkable to me.
Okay…so who's in Maryland, you ask?
Only one of my favorite Christian fiction authors, Roseanna White.
Having been a fan of hers for a while, following her on social media, and since the beginning of my blog back in 2015, having been privileged enough to get to review her last 4 book releases (I've even interviewed her twice), it was kind of special to get to at least drive through her hometown.
Then at the last minute, when we realized that we'd be near that city around dinner time, I knew exactly who to ask for restaurant recommendations. Knowing how nice and very approachable she has always been, I sent off a quick message to Roseanna via Facebook, letting her know my family was in the area.
Always gracious, Roseanna responded sooner than I expected, with her family's favorite place in town: an Italian restaurant located in an old farmhouse that was once used as a Civil War hospital…because really, what would you expect from a historical writer, right? 🙂 (The food was AAAMAZING, by the way – delicious wood-fired pizza!)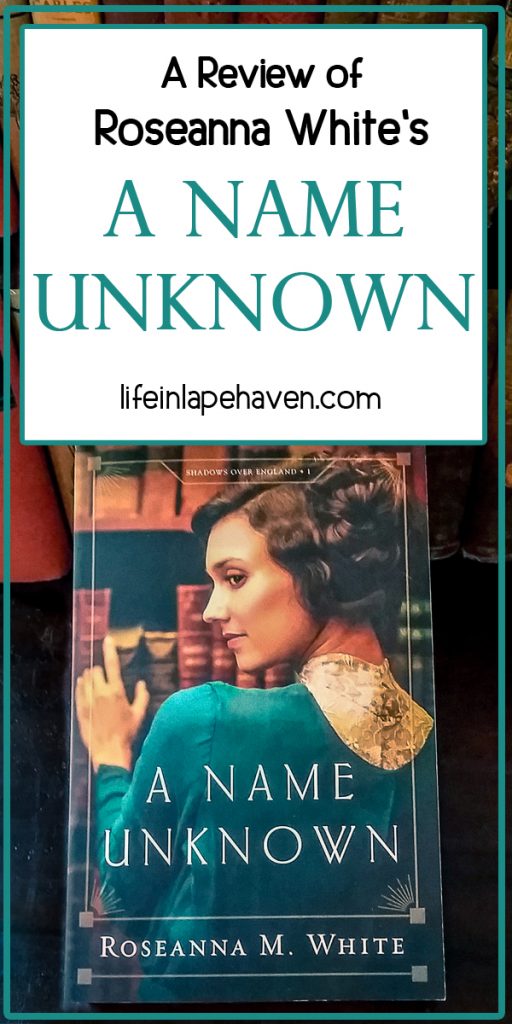 (By the way, this post contains affiliate links, which means that at no additional cost to you, I may receive a small commission when you use the links.)
My little episode of fangirling was especially amusing to me later, when I started reading Roseanna's newest release and the first in her "Shadows Over England" series, A Name Unknown, which features an author as one of the main characters, taking us into his dual world of reality and imagination and the normal and not-so-normal life he leads.
You know, "stars, they're just like us," and all that.
But before I get too far along into my thoughts on her latest book, here's the back cover summary for you:
"Rosemary Gresham has no family beyond the band of former urchins that helped her survive as a girl in the mean streets of London. Grown now, they concentrate on stealing high-value items and have learned how to blend into upper-class society. Rosemary is beginning to question whether she can continue in this life when she's offered the challenge of a lifetime – whether a certain wealthy gentleman is loyal to Britain or to Germany. After all, how does one steal a family's history, their very name?

As Europe moves ever closer to World War I, rumors swirl around Peter Holstein. Awkward and solitary, but with access to the king, many fear his influence. But Peter can't help his German last name and wants to prove his loyalty to the Crown – so he can go back to anonymously writing a series of popular adventure novels. When Rosemary arrives on his door pretending to be a well-credentialed historian, Peter believes she's the right person to help him dig through his family's past.

When danger and suspicion continue to mount, both realize they're in a race against time to discover the truth – about Peter's past and about the undeniable attraction kindling between them."
As always, Roseanna gives us an intriguing and unique plot helmed by realistic, engaging characters, and Rosemary and Peter are two of the most charming yet. While the book moves at a slightly slower pace than some of her other stories and is longer, pagewise, than most, Roseanna's initial "foundation-laying" for the characters is something you'll appreciate as the book moves along.
Peter Holstein has an immediate vulnerability with a stutter that has left him insecure and guarded around people, but not unfriendly or unkind. His relationship with God has given him an inner strength that allows him to remain solid and secure in the storms he faces throughout the story.
I LOVED this quote early on in the book, where Peter is remembering his grandfather's words, as he threw rocks over a cliff to the water below,
"They are like our prayers, ja? We send them out, and we cannot see, always, what they do. Once in a while we see their ripples. But more often we cannot. Still we pray. Because just like our logic tells us these rocks fall and gather and join the other rocks below, so our faith tells us our prayers whisper into God's ears and gather and join the prayers of the other faithful. And His Word says the prayers of the faithful avail much."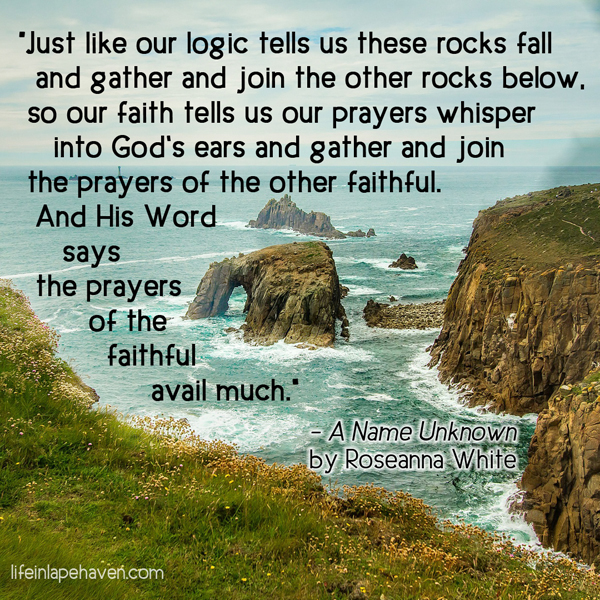 Peter may not feel like the dashing hero he longs to be, or like the one that he writes about, but his humble, giving heart draws Rosemary.
Rosemary Gresham herself is, as Peter describes her at one point, "delicate when it suits (her). Strong…always." Growing up as a thief has taught her to be tough, wear a good mask, and to hide any vulnerability in order to survive. Despite that defense, she has a fierce protectiveness for her "family" and a desire to spare the younger ones experiences like her own. When Peter doesn't fit the stereotypes and prejudices she expects from the wealthier of society, she has to learn to let her own guard down. Revealing her true self, though, means facing her past and her purpose for helping Peter to begin with.
As they develop a somewhat unlikely friendship (despite her goal and his secrets), the banter and humor they share is pretty adorable, blossoming sweetly as they find a shared mission.
As someone who has a difficult enough time just getting a simple blog written with the distractions of family life always present, it was delightful to see life through the eyes of an author – the things that inspired Peter, his living in two worlds, his frustration at being interrupted from his work before each word or idea is recorded.
I have a feeling that Roseanna may have pulled from her own real-life experiences as a writer just a little there. And I think that the story within the story – Peter's book – should become a companion novella for this book.
However, my favorite aspect of A Name Unknown was Rosemary's gentle heart change, brought about by the example in the everyday life of a man quietly living what he believes.  Roseanna White always weaves the spiritual journey of her characters so well and so convictingly that her words become ministry in the midst of a great read.
I'm fairly certain Peter's words sum it up nicely,
"…Perhaps by changing himself he could cause a greater change, too. That had always been his hope, his prayer. That the Lord could somehow use both his shortcomings and his gifts to make others better. Stronger. More faithful."
A Name Unknown is another wonderful offering of Roseanna's gifts that I know the Lord will use and one that you'll enjoy as well.
(And thanks, again, Roseanna, for your dinner recommendations for my family. That was ministry as well.)
A Name Unknown is now available at any of your favorite booksellers. Or you can download it on your Kindle or Kindle app to begin reading it RIGHT AWAY! 🙂 
And watch for Book 2 in her "Shadows Over England" series, A Song Unheard, coming out January 2, 2018.
Thank you, Roseanna  and Bethany House Publishing for another great book and the chance to be an advanced reader, again! While I received a copy of  A Name Unknown in exchange for my honest opinion, you know that my endorsement of the book is based solely on how much I loved it. 
More about Roseanna White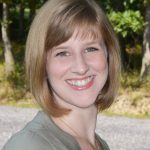 Roseanna M. White pens her novels beneath her Betsy Ross flag, with her Jane Austen action figure watching over her. When not writing fiction, she's homeschooling her two children, editing and designing, and pretending her house will clean itself. Roseanna is the author of a slew of historical novels and novellas, ranging from biblical fiction to American-set romances to her British series. Spies and war and mayhem always seem to make their way into her novels…to offset her real life, which is blessedly boring.
Being educated at St. John's College (the Great Books School) taught Roseanna to ask questions, to value conversation, and to never accept the simple answer without exploring it for herself. She and her family make their home in the mountains of West Virginia where she and her husband both grew up. Roseanna is a member of ACFW, a frequent speaker at writers events and small groups of readers, and an unabashed email addict.
You can follow her website and blog and find her on Facebook, Twitter, Instagram, and Pinterest.
YOU MAY ALSO LIKE
The Lost Heiress – Interview with Roseanna White
The Reluctant Duchess – Interview with Roseanna White