When my boys are together, they are always playing pretend. Well, I guess that's not 100-percent true. Sometimes they play with LEGOS, or color and make crafts, or fight. But a lot of the time, even their other play involves some kind of pretending.
Since Elijah is the oldest, he tends to direct what they'll be imagining about that day. Lately there have been many sessions of "school" where Elijah is the teacher and Josiah is the student. It's really cute to listen to, until Josiah doesn't do exactly what Elijah wants him to, and they go from playing to fighting. (It happens so quickly, doesn't it?)
One of the cutest pretend plays they have done, at least that I've overheard or seen, was the day Elijah decided to play "preacher." I really wish I could have recorded their "service."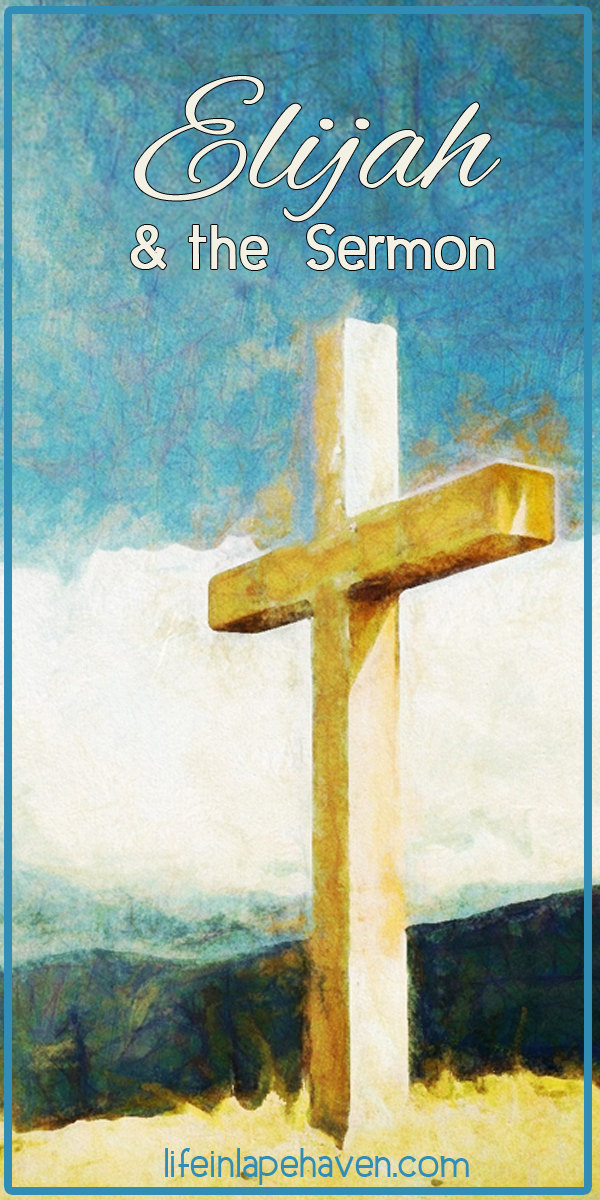 Elijah pulled out a tall side table to be his podium, and he and Josiah took turns talking at the podium and sitting behind it in the rocking chair, which I guess was part of the platform.
Pastor Elijah began the service by introducing himself and taking attendance. (I'm not sure where he got the idea to take attendance, unless that's something he saw in Sunday school.) Once he was warmed up, he led his imaginary congregation in singing both made-up and recognizable praise songs.
He spent some time writing stuff down, and when I asked him why he had to have the pencil and paper, he told me it was "because I'm the preacher."
Elijah graciously stepped aside to allow Josiah to do their announcements. Of course, Josiah wasn't as practiced at public speaking, so there weren't very many announcements to be made.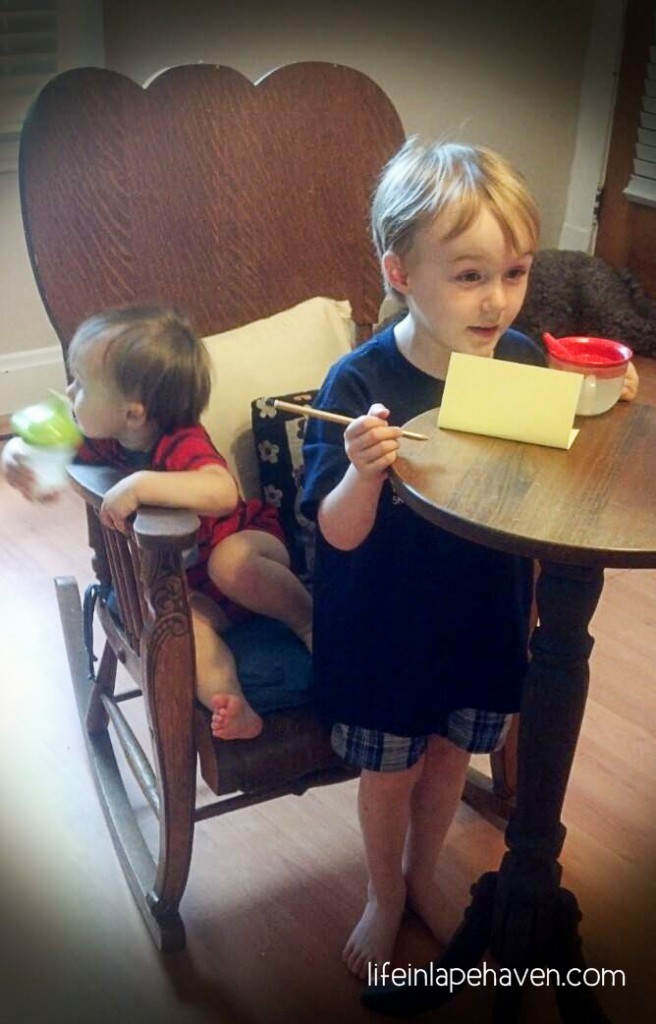 Once Elijah was back at the podium, he was ready to preach, and preach he did.
This was his message:
"Jesus died on the cross. He died because He didn't want YOU to die."
Then he closed in prayer.
That was his whole sermon – two sentences. Short, sweet, and simple.
But then it really is that simple. My then-4-year-old understood the Good News of Jesus better than a lot of adults, who like to make things way more difficult than they need to be.
It reminds me of the scene in Mary Poppins where Bert had drawn lots of beautiful chalk pictures on the pavement and is trying to show the Banks children how to "do a bit of magic" to get into the pictures.

His instructions are, "You think. You wink. You do a double blink. You close your eyes and jump."
When nothing happens, Mary Poppins takes over, scolding Bert for overdoing it. "Why do you always complicate things that are really quite simple?"
She takes the children's hands, and all it takes is, "1…2…" and they are all transported into the chalk pavement pictures for a "Jolly Holiday" that is "Supercalifragilisticexpialidocious."
The Gospel isn't "think, wink, double blink, and jump." It's more "1…2…"
It's "Jesus died on the cross. He died because He didn't want YOU to die."
It was so encouraging and precious to listen in on their play and see their foundations in God being so firmly established.
It was kind of supercalifragilisticexpialidocious.
Get more ideas & encouragement from this real-life mom as I experience God's faithfulness through the joy and chaos of motherhood.

Join my email list!  
YOU MAY ALSO LIKE: