I didn't want to do it.
I remember – I really didn't want to do it.
I was 6 or 7 years old, standing on the stage of our little church, going through dress rehearsal for the children's Easter production, and playing the part of one of the women who came to anoint Jesus's body at the tomb. I'm not sure which woman I was supposed to be. All I remember for certain was that my character was supposed to be the one who looked into the empty tomb.
And I didn't want to do that.
Little girl me didn't want to look into the giant black hole of the tomb…which wasn't even a hole. It was a picture, painted on a large canvas as part of our set and scenery. My own mother had painted it.
I knew it wasn't real, but still – there was something intimidating, almost mysterious, and a little scary about it. (Sometimes having a good imagination backfires…)
So, they switched me with one of the other girls playing another one of the women at the tomb. One who didn't have to pretend to look in.
It's laughable now that I was so hesitant. It was just a set.
Or maybe I was just really in character that day.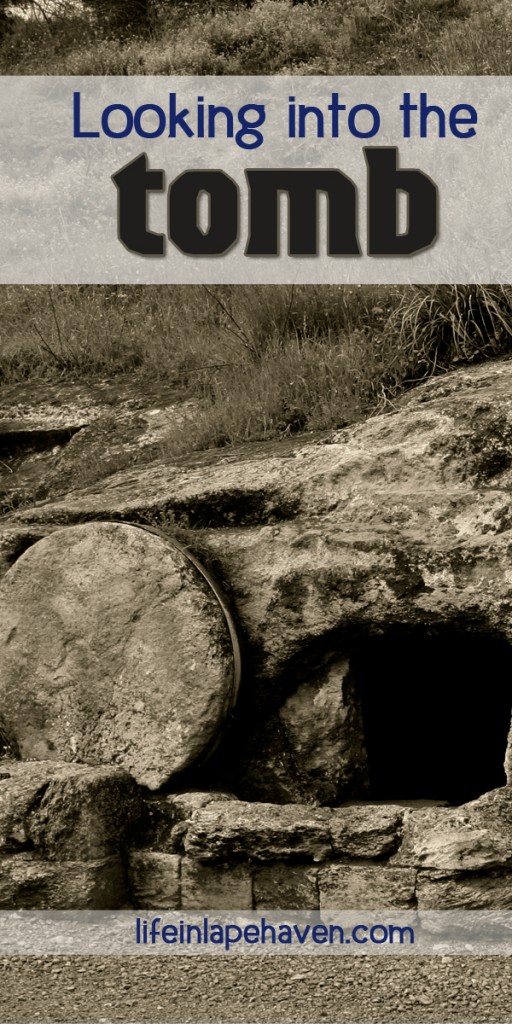 Wouldn't the women who'd come to prepare Jesus's body be slightly unsettled to see the huge stone rolled to one side, exposing the opening of the dark tomb? Wouldn't they hesitate a little before they went in to investigate?
I'm certain there was something intimidating, very mysterious, and a little bit scary about it.
Yet once they went in, well…it was probably still somewhat intimidating, very mysterious, and a little bit scarier.
Jesus wasn't there, but an angel or two were.
It wasn't what they expected when they'd set out early that morning. They'd seen Jesus die, knew that His body had been placed in this borrowed tomb, and though they were no doubt grieving deeply, they were dutifully coming to prepare His body and find some closure.
To find an empty tomb instead?
I don't know that they were instantly aware of what it all meant. In Mark's telling of that morning, he says of the women in Chapter 16, verse 8, "So they went out quickly and fled from the tomb, for they trembled and were amazed. And they said nothing to anyone, for they were afraid."
After the angel tells them that Jesus is alive and to go tell His disciples that He's going to meet them all in Galilee (verses 6 & 7), the women flee, trembling, amazed, and afraid until Mary Magdalene actually sees Jesus in the garden later (verse 9).
I've often wondered why Easter isn't celebrated as "big" as Christmas is, even among Christians. Yes, we celebrate Easter, but not with tons of decorations, two months of songs, multiple parties and gatherings, or any of that.
Easter is the biggest point in human history, the most triumphant and victorious, but its joy is different than the joy of Christmas time.
I think the answer is in those verses in Mark.
It's easy to look into the manger. It's a lot harder to look into the tomb.
It's easy to look into the manger. It's a lot harder to look into the tomb.
Click To Tweet
The tomb reminds us of our mortality and our sin. It reminds us of sacrifice and struggle.
Looking into the tomb is intimidating, mysterious, and a little scary.
However, it takes looking in to see that it's empty, and that emptiness means that sin and death were defeated, that Jesus was and is victorious, and that through Him, we are, too. It's through the empty tomb that Jesus brought us life.
We may not fully understand the entirety of the miracle, but even an inkling of it is enough to leave us trembling and amazed and in awe of our Mighty God, His love, and His power.
This Easter, take a good look into the tomb. It may be intimidating, mysterious, and a little bit scary, but it's still empty.
Feature picture courtesy of CreationSwap/Joel Millhouse.
Get more ideas & encouragement from this real-life mom as I experience God's faithfulness through the joy and chaos of motherhood.

Join my email list!  
YOU MAY ALSO LIKE:
The Easter Basket Tradition That'll Point Your Children to Jesus
An Unfinished Testimony to Share
Growing Up on Manna: How Your Struggles Can Build a Legacy of Faith for Your Children