When I was in high school, my family lived in southeast Georgia, about an hour from Savannah, and while winters down south are generally pretty mild, especially compared to what we were used to in Ohio, we always looked forward to spring and the blooming of the azaleas in early March.
If you've never been in southeast Georgia when the azaleas are in bloom, I'm sorry – because it is absolutely gorgeous. At our house we had several azalea bushes that contributed to the overall beautification of the area, and it always brought me so much joy just to see the brightly-colored blossoms all around.
Now that we've been back up north for 16 years, spring isn't marked by azaleas anymore, but rather by the forsythia.
In Ohio, we pray for the forsythia to bloom, especially when it has been a cold, harsh winter.
I don't really think the forsythia is a very pretty plant. There's no greenery on it when the yellow blooms appear (since the flowers are actually the starts of the leaves), so it's more like sticks with some random yellow petals on them until the plant fills out a bit more. It's not nearly as breath-taking as an azalea, even if the bright color is nice after a long season of brown.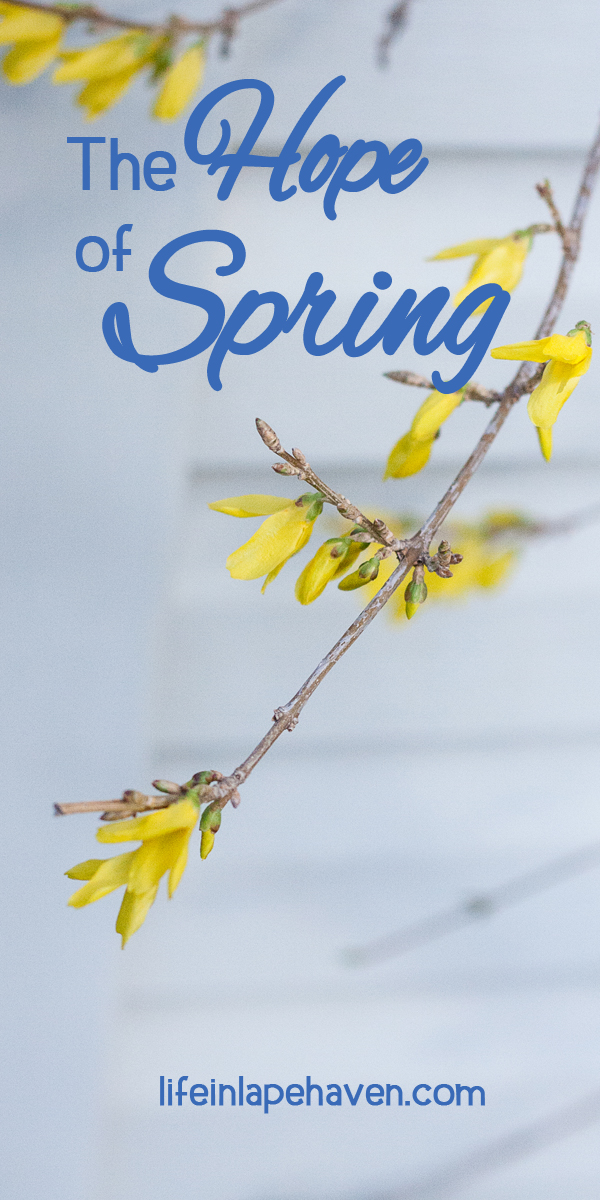 But unlike the azalea, whose gorgeous display is the prize itself, it's the promise that comes with the forsythia's first blossoms that make it such a wonderful sight to see.
According to old weather folklore, once the forsythia blooms, there are only three more snows left (and usually only flurries) before you are done with winter, and it is truly spring!
Seeing the little yellow blossoms is like glimpsing the light at the end of a cold, dreary tunnel. For as long as I've known about this little weather predictor (my mom told us all about it), I've never seen it fail. I've watched and counted the snow falls every year. Brad thought that I was crazy until he, too, started keeping an eye out for the forsythia's first sprouts of yellow and saw that the folklore is true.
Now he's the one asking if "that plant" has bloomed yet, particularly on very gloomy, chilly days in late February or early March. He's even suggested that we just bring one inside to "help" it bloom sooner.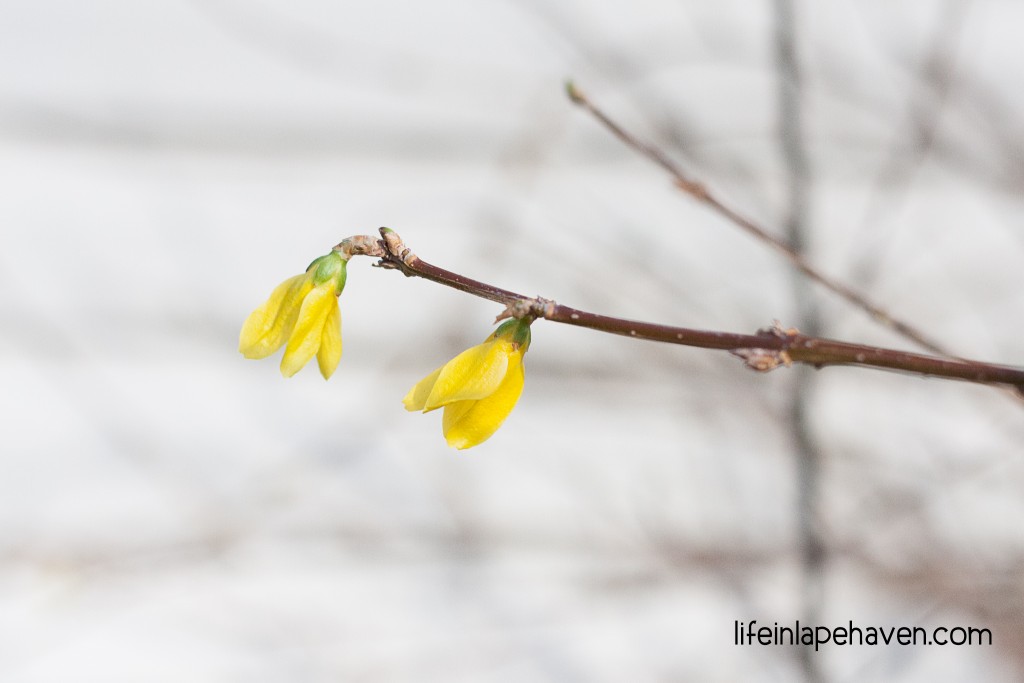 By the end of winter, even if it's mild where you live, we are all longing for the hope, joy, and new life of spring.
Is it any wonder, then, that Easter falls during this season?  Just like the forsythia's first colors promise only three more snows and the hope for freedom from winter,  Jesus's death meant only three more days until He rose again, bringing a beautiful, glorious hope of forgiveness, joy, and new life in Him and a true freedom more amazing than even the azaleas in full bloom.
"Blessed be the God and Father of our Lord Jesus Christ, who according to His abundant mercy has begotten us again to a living hope through the resurrection of Jesus Christ from the dead" ~ 1 Peter 1:3
YOU MAY ALSO LIKE:
An Unfinished Testimony to Share