This post may contain affiliate links, which means that, at no additional cost to you, I may receive a small commission if you make a purchase using the links.
Some days, dinner is my nemesis.
As much as I like cooking and baking and concocting in the kitchen, some days I just don't want to. It's like a culinary version of writer's block. You know you have to feed your family, but eh. (Do we have anything quick, easy, and healthy?)
Sure I could do crockpot meals, if I remembered to start it in the morning, and sometimes I do. Those are good days. Other times, I don't, and we're back to deciding what to do for dinner.
I'm pretty sure it was one of THOSE later afternoons that I stumbled upon my new favorite way to make mashed potatoes.
I'd gone through the effort of prepping a whole chicken to roast. Ok, not ALL the prepping – I didn't have to go out back, kill it, gut it, and pluck it. But I DID thaw it and get it out of the annoying packaging while trying not to drip chicken ew all on my counters and sink to avoid salmonella-ing my family. I also managed to get it into the roasting pan, seasoned well for roasted chicken goodness, and into the oven early enough for it to be done in time for dinner.
But we couldn't just eat chicken, by itself, for dinner…I guess. So, sides.
Mashed potatoes are great with roasted chicken, and all three of my guys devour them. But the peeling, dicing, boiling – I just didn't want to. (I sound like some incompetent infomercial actor trying to chop with an appalling lack of skill – "Oh, the peeling and dicing!" Haha. Yeah, it's not hard. I just didn't want to.) Plus, my boys were being a little unruly that day, if I remember correctly, so I decided to try something out.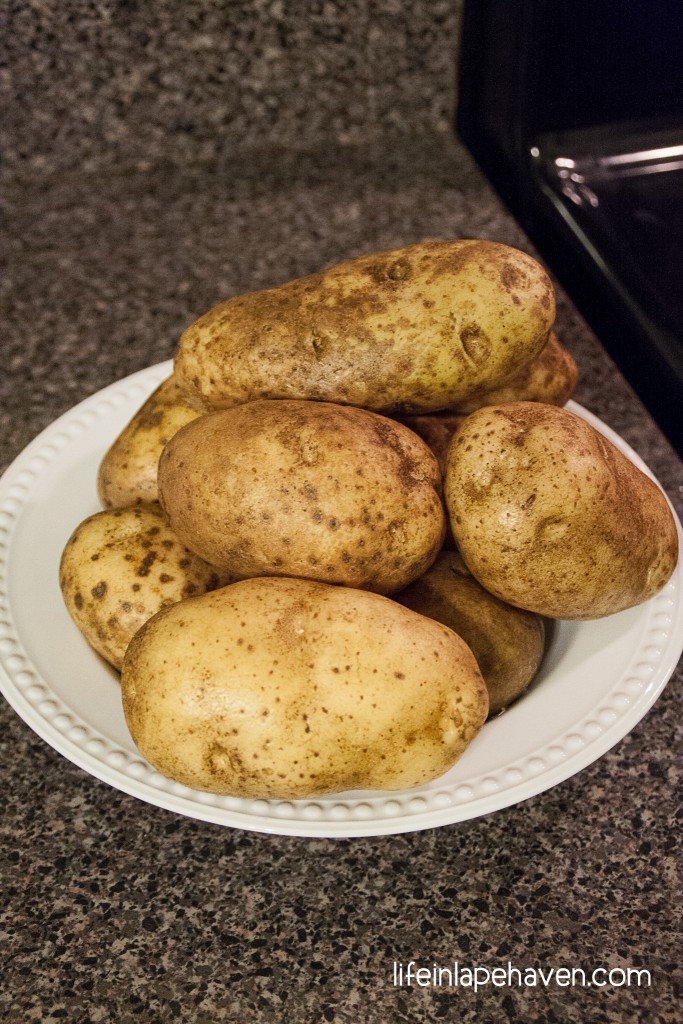 I grabbed the potatoes, about 6 or so, washed them, rubbed them with a little oil, and popped them into the oven on the rack around the roasting pan.
And I was free to move on to corralling my boys for about an hour.
By the time the chicken was done, the potatoes were baked through.
While the chicken rested, I sliced the potatoes in half, then holding them in my Ove'Gloved hand (my Ove' Glove is one of my favorite kitchen items), with a scoop or two, and sometimes a little squish, I added cooked potato to a bowl in no time. I did a little happy dance when I realized how little time it took me to scoop out the cooked potato flesh versus the time I would have spent peeling and dicing them. My plan was working!
From there I made mashed potatoes the same way I always had: mash them; add butter, milk, and salt; and whip them up well.
The verdict: My guys LOVED them!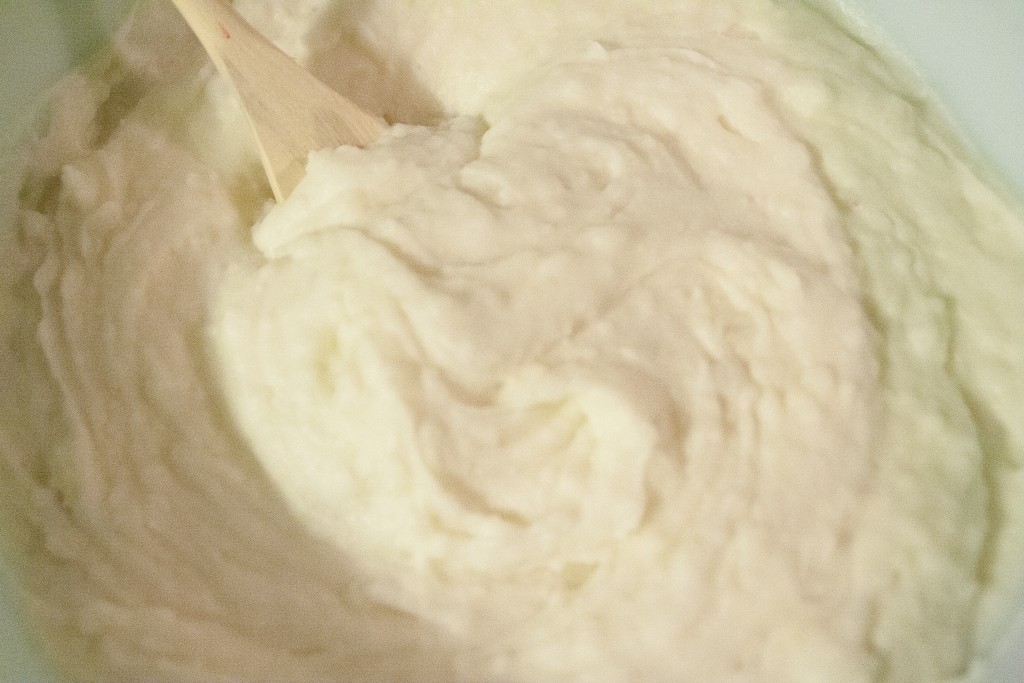 The taste is like a baked potato, and while the texture can be a little less fluffy than conventional mashed potatoes, using my good mixer helps get them close enough for us.
Plus, you retain more nutrients baking the potatoes versus boiling them (or so I've read), and instead of throwing out the skins, as I would if I peeled them, I save them because my guys love to add a little ketchup (or a LOT, right, Brad?) and eat them.
Since then, this has been my go-to method for making mashed potatoes, especially on those days when I don't really feel like cooking but want to eat like I have.
Do you have any unique prep or cooking methods that you've developed in your kitchen? Have you ever made mashed potatoes from baked potatoes?