My family and I saw the new Christmas movie, The Star: The Story of the First Christmas, on opening weekend. Here are my thoughts about it in case you've been wondering whether or not to take your children to see it.
"Just because God has a plan, doesn't mean it's not going to be hard."
Would you expect that line to come from a Hollywood-released children's movie that doesn't involve singing vegetables? (Love you, Veggie Tales!)
I didn't either.
And yet, this past Saturday morning, as I sat with my husband and our three boys in a sold-out theater full of excited little children (and parents and grandparents), those words were heard by everyone in attendance, as we watched the new Christmas movie, The Star.
Released by Sony Pictures Animation & Affirm Films, The Star follows the story of a little mill donkey named Bo and his animal friends whose adventures put them in place to witness the events of the very first Christmas, including traveling with Mary and Joseph to Bethlehem.
Yes, most of us know the story of Jesus's birth. Most of our children know it by heart as well. However, The Star does a good job of showing some of the deeper emotions and themes of the story of the birth of Jesus that our kids may not have grasped yet while still being funny and lighthearted, as evidenced by all the giggles and laughs we heard all around us from both little ones and old ones alike.
And thankfully, not ALL of those laughs came from jokes based on crude humor (unlike so many kids' movies and shows recently).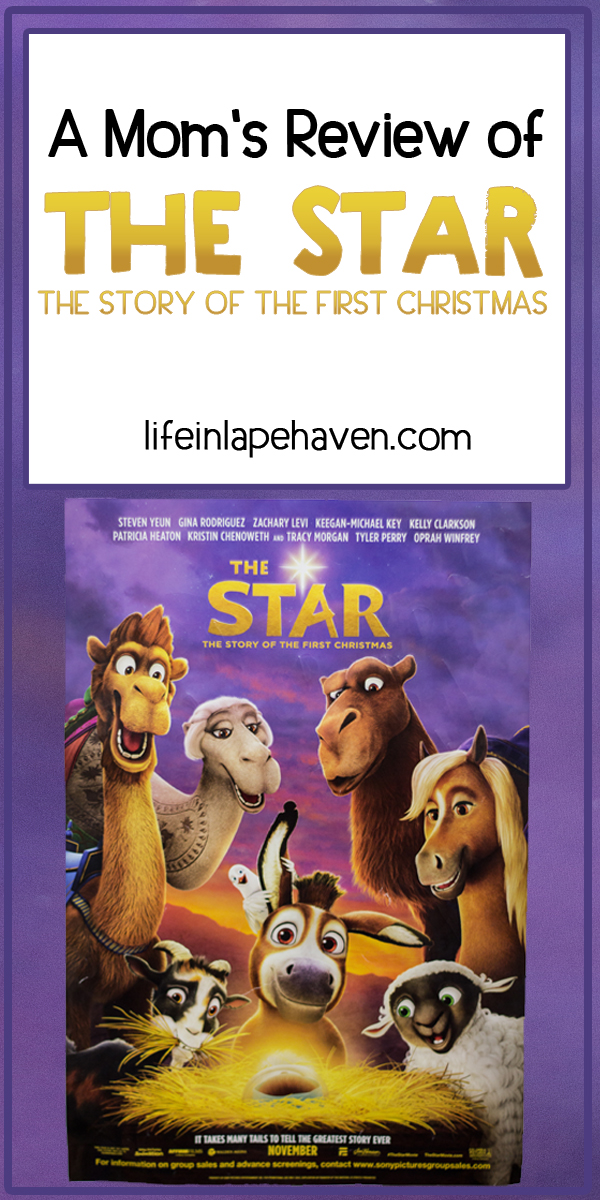 (This post contains affiliate links, which means that I may receive a small commission if you purchase through the links.)
THINGS THAT I LOVED ABOUT THE STAR:
Mary and Joseph are portrayed as very relatable, very normal people who love God and are trusting Him in this most unusual plan He has called them to. Mary speaks the line I quoted at the beginning while she and Joseph struggle to understand why God chose them and why things aren't going better if He did. I don't know if many children have ever listened to the story of Mary and Joseph and thought about what it really meant for the couple to be obedient to God's plan, but I love that this film pauses to give kids that chance.
I also love the interactions between Joseph and Bo the donkey. (If Joseph sounds familiar to you when you see it, it's because he's voiced by Zachary Levi, whom most of you will know as "Flynn Rider" from Disney's Tangled. He is just one of many in a long list of good voice talent in this movie!)
As a mom who's gone through pregnancy and labor three times, I appreciated how they showed Mary's labor progression, even her breathing through the early contractions. (Although at other points in the movie, she was moving considerably well for a pregnant chick.) It might seem like a little thing, but again, it makes Mary a bit more real than other productions that breeze through the delivery as though it required very little of her (looking at you, The Nativity Story.)
One of my favorite sweet moments in the movie happens when Bo decides to pray, and I love it because he mentions how often he's seen Mary pray. (And Mary and Joseph pray multiple times during the movie). It's a subtle message to parents that we are being watched by those little ones around us and a reminder to us to be setting the example they need.
Another slightly subtle but so amazing message comes through Herod's soldier's mean dogs – the "bad animals" of the movie.  When finally freed from their literal chains, they are given a choice to change and be truly free. There's even a lesson of forgiveness and grace when Bo sees them again at the manger. I don't want to spoil it for you, but it was one of my favorite parts of the movie.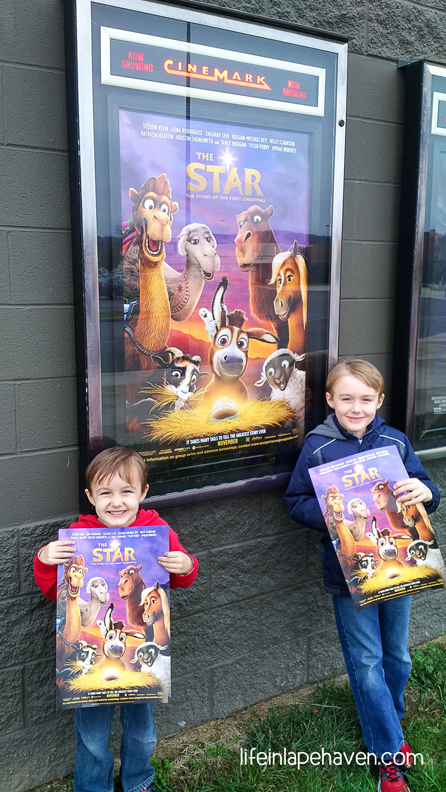 THINGS TO NOTE ABOUT THE MOVIE:
While they did a good job of staying true to scripture, as with most movies and works of fiction, the filmmakers do take some poetic license in the film of which you might want to be aware.
The way that they write Mary and Joseph's wedding as happening on the same day as her return from Elizabeth's and prior to revealing her pregnancy may be an issue for some because it makes Joseph's struggle with it all a little less of a struggle. However, they do show him seeking God for wisdom in his confusion, and God speaking to him…without bringing up a discussion of broken engagements and suspicions of infidelity (and what THAT means) with a young audience. (When your kids are older, you can promote them to The Nativity Story, which I still love despite Mary's easy delivery, as it digs a little deeper into Mary and Joseph's story, emotions, and struggles.)
Not a huge deal, but I noticed that the wise men come across as "not as wise" at a couple of points, but I'm pretty sure that was done so that their three camels would have something to help with. 🙂
The story also follows the more traditional telling of the Christmas story – the one used to create our nativity sets and such, where the wise men and shepherds are all at the barn/stable at the same time- versus the Biblical one where the wise men come along a bit later "to the house" where "they saw the child with His mother Mary." (Matthew 2 tells about the Wise Men's visit after following the star, and Luke 2 shares the story of Jesus's birth and the angels appearing to the shepherds.) But whenever they came, they all came to celebrate Jesus and worship Him as the promised Messiah, which is the point of Christmas.
(By the way, make sure to read the Biblical accounts to your children. While talking animals are fun, our kids do need to know what the Word of God says even more. It's best not to get your theology from a donkey.)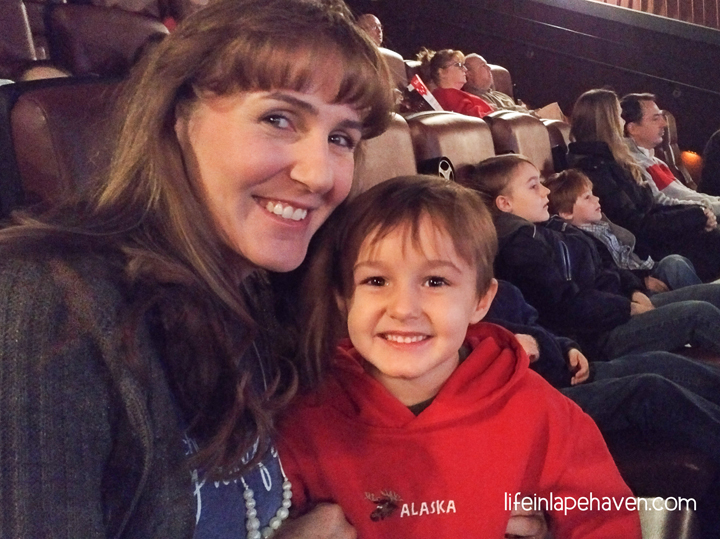 Having seen my share of animated children's films over the years, I wasn't sure what to expect from The Star movie when we arrived at the theater. I had high hopes but not-as-high expectations, to be honest. However, I truly enjoyed it. Sure, it's not perfect, but overall it was a delightful film with fun characters and plenty of heart.
Our boys liked it, too.
In fact, when I asked them about it, trying to get an "official review" from my kids for you all, that's exactly what they said. 🙂
Elijah, 7: "I liked it. It's really funny."
Josiah, 4: "It was funny. I liked it."
(These are direct quotes, too. Haha)
With as much as they have been talking about it since we saw it, reliving their favorite moments and asking when we can see it again, I'm pretty certain that The Star is destined to join our movie library and claim a top spot on our must-see-every-year Christmas movie list.
My boys and I weren't alone in our opinions of the film, either.
The entire theater erupted in applause after the final scene of the movie, and I heard little kids in front and behind me telling their parents, "I liked that movie!" and "That was good!" and even a disappointed, "Is it over?" (Oh, and the closing credit artwork is kind of adorable!)
So, if you're thinking of taking your children to see The Star, I definitely recommend it.
It's a great way to celebrate the the birth of Jesus, the true Star of the season.
*Note: This is not a sponsored review.*
Keep up with all our adventures & get encouragement from this real-life mom as I experience God's faithfulness through the joy and chaos of motherhood.

Join my email list!  
YOU MAY ALSO LIKE:
Why You Can't Give Jesus A Dinosaur: Christmas According to My Boys
Nobody Is Grading Your Holiday