A few weeks ago, I wrote about our family's plan to have a more scaled back Christmas, which meant limiting our gift-giving to a simple four gift checklist:
#1. Something they want
#2. Something they need
#3. Something to wear
#4. Something to read
Well, we tested out this minimalist Christmas thing.
How did it work? Did we stick to our plan? Did our boys miss the excess? Is this new tradition a keeper?
Here are the answers to all those questions, in case your family is feeling the nudge to have a simpler Christmas next year.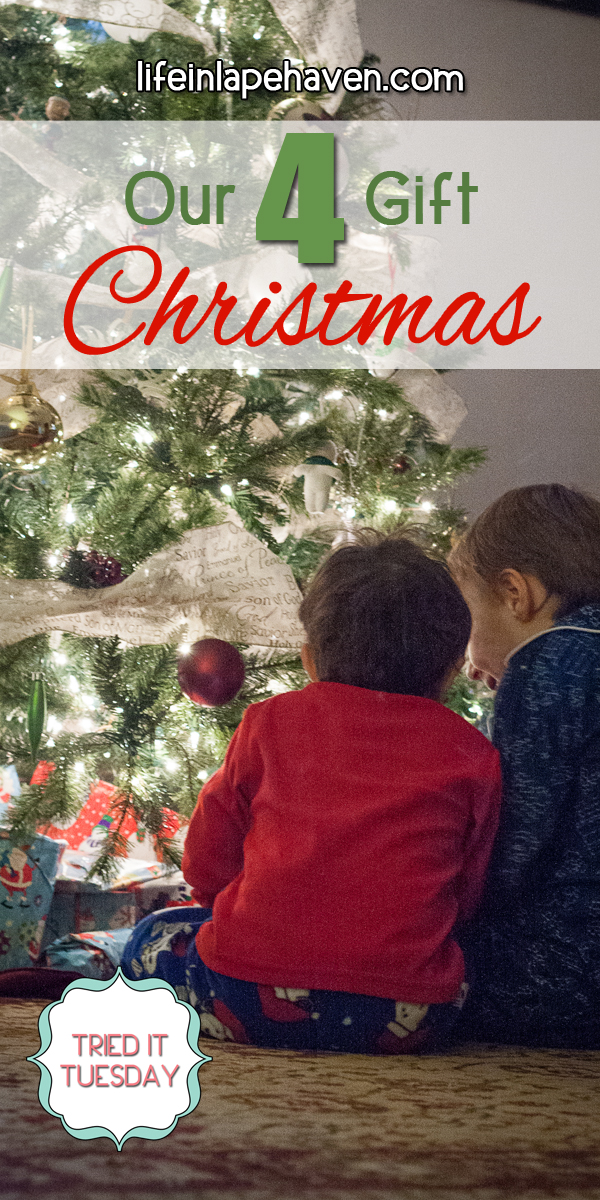 HOW DID IT WORK?
It was brilliantly easy, for the most part. Having some guidelines for the gifts made it so simple to know what to buy for our boys and eliminated any impulse buys we faced.
Elijah's list was the easiest to fill because he only "wanted" one thing, he knew what he wanted to get for his "to wear" item, and the other two slots – need & read – filled themselves.
Josiah's was trickier because he kept seeing new things on television every day that he "wanted." He would say, "Can I have that for my birthday?" Elijah, being the older brother, would answer before I had a chance, reminding Josiah that, "It's not for your birthday. It's Christmas. And you only get ONE thing."
However, watching how Josiah has been playing lately, we came up with a "want" that he truly did want, and it wasn't even something he'd seen on a commercial.
Once we had an item for each spot on their lists, we were done. It was amazingly easy. Hubby couldn't add "one more thing" for either one, as he likes to do, and we didn't have to worry about one ending up with more presents to open than the other.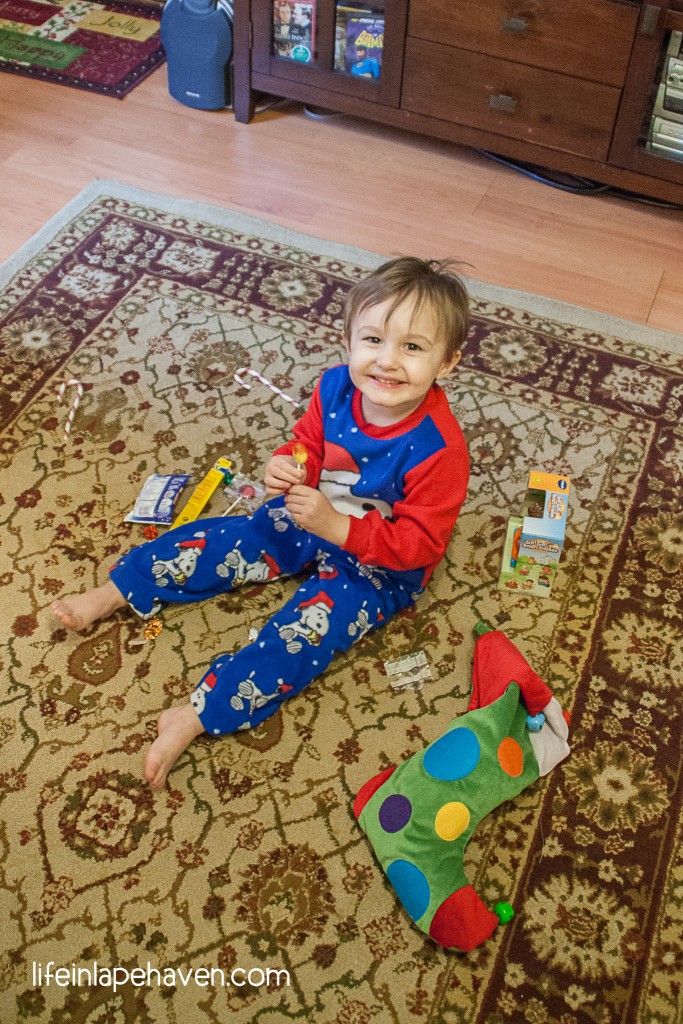 DID WE STICK TO OUR PLAN?
Yes, for the most part. The only deviations we made were to have more than one item in a couple of Elijah's packages. For his "to read," since he is reading now, we got him two books instead of just one, but wrapped them together. We also added a couple of shirts to his "to wear" present because all he asked for was a scarf, but he really needed new shirts (he just won't stop growing out of things!). Since all three of Elijah's clothing items combined were less than the price of Josiah's huge pack of socks for his "to wear," we felt it was fair enough and still within our budget and guidelines.
They each had four gifts to open from us on Christmas morning.
They also had their Christmas Eve pajamas the night before, their stockings, and a gift from each other. We didn't include their gifts from each other in our four-gift rule, nor did we plan to in the beginning because when you let a child buy a gift for their sibling or parents, you can't really plan what they are going to pick out to give! 🙂
After our boys shopped for us, it put Brad & me both over four gifts each, which we hadn't really thought about ahead of time. Usually when our boys shop, they get one gift for Mommy and one for Daddy. This year they went with Grandma and found some good sales. They ended up way under budget, though, and they had a wonderful time watching us open the presents from them.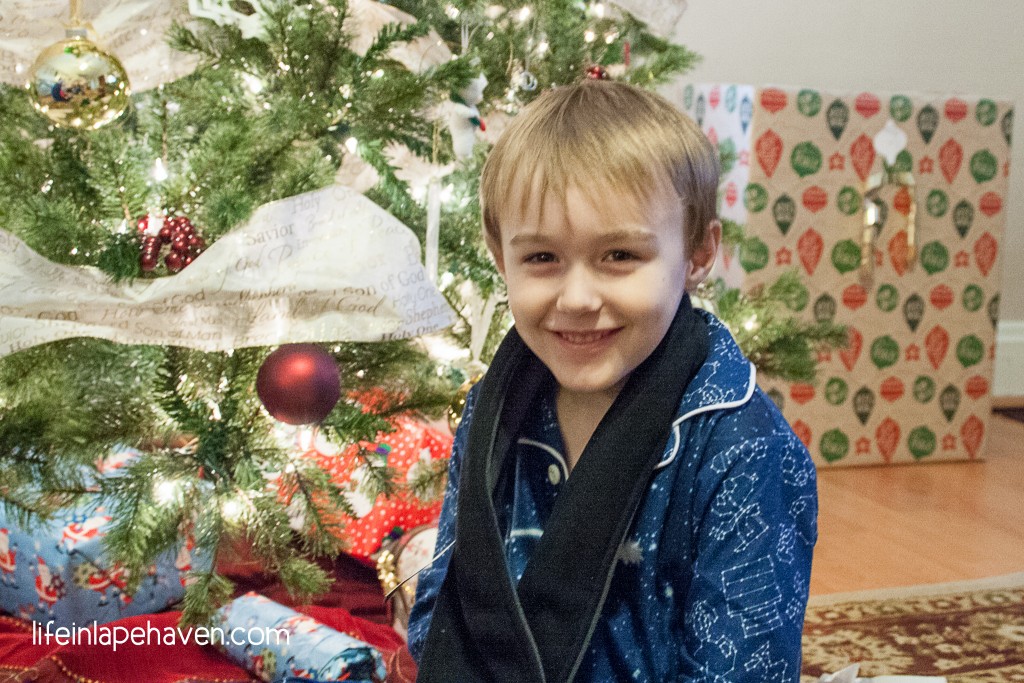 DID OUR BOYS MISS THE EXCESS?
Honestly, I think they were freer and happier without the extras. They haven't seemed to miss anything.
While we've never been ones to go crazy with presents, this year the boys did have fewer presents to open. However, they truly seemed to enjoy the morning even more. Since they knew what the guidelines were, they knew what to expect, and I think that helped them. They weren't in a rush to go from one gift to the next, and when we were all done, they were content. I really didn't see any disappointment.
They have enjoyed the presents they received, from us and from family members, but they haven't seemed as overwhelmed as they have been in the past. Having fewer new toys means that they are appreciating each one more and really playing with them.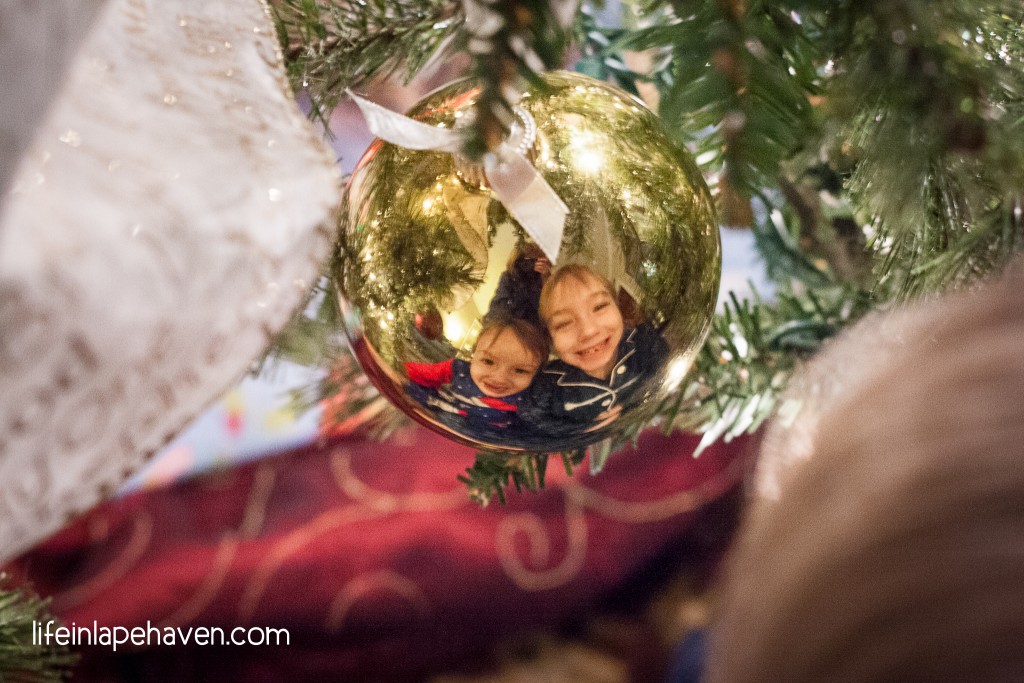 IS THIS NEW TRADITION A KEEPER?
ABSOLUTELY, YES!!! It's amazing what a difference it made all around to our holiday. There was no stress – like, zero! – in shopping for our boys. It felt so laid-back and easy. Since we purchased fewer items, we probably put more thought into our choices, but there wasn't any pressure that an item had to be the perfect gift. There seemed to be greater appreciation for each item, too.
I'm sure we saved money, so that's always helpful.
And wrapping! I can wrap four presents in no time! That was so nice. It takes Brad a little longer to wrap things, but even then, we had them sorted and done quickly. Everything was organized, simple, and peaceful.
Instead of shopping and wrapping and stressing, we were enjoying hot chocolate and old movies with our boys, reading the Christmas story again and again, and making cookies to share with our neighbors and memories to share forever.
I think it was probably one of the best Christmases we've had in a long time.
DID YOU START ANY NEW TRADITIONS THIS YEAR? DO YOU HAVE ANY GUIDELINES THAT YOU FOLLOW FOR GIFT GIVING AT CHRISTMAS?
Get more ideas & encouragement from this real-life mom as I experience God's faithfulness through the joy and chaos of motherhood.

Join my email list!  
YOU MAY ALSO LIKE:
Why We Don't Need MORE This Christmas
10 Ways to Help Your Kids Make Christmas More About Others
Inexpensive Crafts That Make Great Christmas Gifts for Grandparents