With spring now in full bloom, my boys want to be outside as much as they can. When I meet Elijah at school at the end of the day, the first words out of his mouth now are, "Can we go to the park?" If that gets turned down for some reason, the next question is, "Can we play outside?"
Knowing those boys have plenty of energy to burn off, I'm more than willing to comply as often as possible. When we come back inside, I have to be ready for their next favorite question, "Can we have a snack?"
Today, the boys are in for a surprise because with their snack they'll be getting to mix up some chocolate milk with homemade chocolate syrup, which they LOVE.
I only make chocolate syrup every so often, not because it's difficult or expensive (it's neither), but because if I kept our refrigerator stocked with the syrup, chocolate milk would be all my boys (and husband) would drink. 🙂 When we have it on hand, we also go through a lot more milk, of course!
Besides that, during the colder months of the year, my crew is more about hot chocolate and hot tea. Spring and summer are the months that really call for chocolate milk –  or ice cream with chocolate syrup (Yep, it's great for that, too.).
I first started making chocolate syrup a few years ago when I saw a recipe for chocolate syrup posted on One Good Thing by Jillee. It looked easy enough, and you know – CHOCOLATE, so I made some.
My husband, who isn't a huge fan of chocolate but is chocolate milk's number one fan, was so impressed with how good it was that my first batch was gone really, really, really quickly.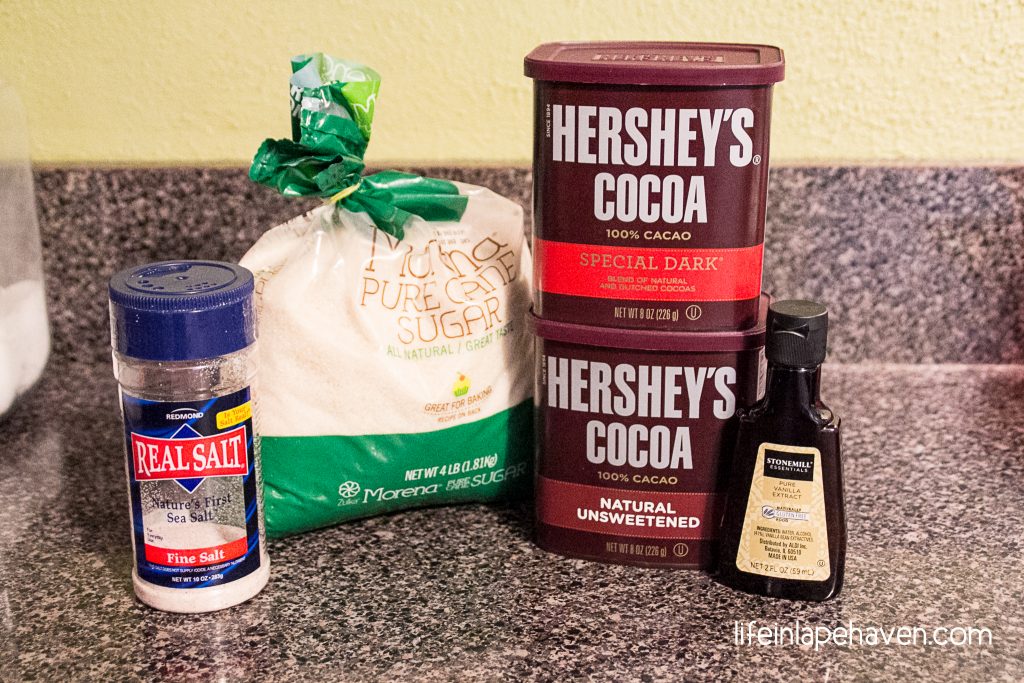 I did tweak the recipe, just a bit. Since I love dark chocolate, I always buy both regular cocoa and dark chocolate cocoa. This way I can "darken" any chocolate recipe, even a little bit – brownies, no bakes, chocolate syrup. I do a mix of both varieties of cocoa so that it's not too strong for the guys, but it's a bit more chocolatey for me. 🙂
This homemade chocolate syrup is so easy, quick, and inexpensive, not to mention healthier than store-bought syrup, I haven't actually bought chocolate syrup since!
Instead, I break out this recipe whenever we need a little treat on a warm day.
Here's how I make Homemade Chocolate Syrup:
Ingredients
1-1/2 cups Sugar
½ cup Hershey's Cocoa
¼ cup Hershey's Special Dark Cocoa
1 cup Water
Dash of Salt
1 tsp. Vanilla
Instructions
In a medium saucepan, whisk together sugar, cocoas, and salt.
Slowly add the water and stir.
Bring to a boil over high heat, stirring occasionally.
Once the syrup starts boiling, reduce the heat and cook about 1 minute. The syrup may still boil up a bit, which is why I use a slightly larger-than-necessary saucepan.
Remove your pan from the heat, and stir in the vanilla.
Allow the syrup to cool, and then transfer to a sealed container (Mason jar, condiment bottle, etc).
Store in the refrigerator.
Note: You may end up with a little syrup left in the saucepan. I just pour in a little milk, stir it up, and make the first cup of chocolate milk with that! Can't let any of that chocolate goodness go to waste. 🙂
https://lifeinlapehaven.com/2016/04/19/tried-tuesday-homemade-chocolate-syrup/