Jump to recipe
As much as I love summer, there is something to be said about all the crisp weather, cozy clothes, fall fun, and tasty treats that come with autumn. While I love all the apple and pumpkin goodies to be made (Apple pie? YUM! Pumpkin cookies? Yes, please!), I also get really excited when I start seeing butternut squash in the stores.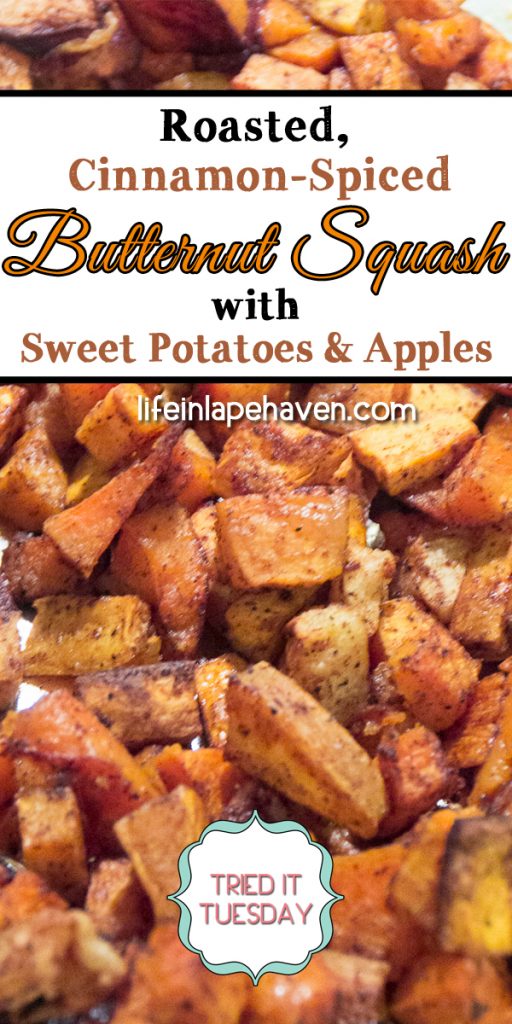 I'm not sure when I first tried cooking butternut squash for my family, but it quickly became a staple of our autumn pantry. I love making this Winter Squash soup (Pumpkin-Butternut Squash Soup) by the Food Network's Ina Garten. However, I think my absolute favorite way to enjoy this seasonal veggie is to simply dice it up and roast it, usually along with some sweet potatoes and apples.
The other night I was ready to make this sweet combination as a side for our dinner, but I couldn't remember at what temperature I usually roasted it. So, I searched online for "roasted butternut squash."
The first recipe I checked out was one for cinnamon roasted butternut squash from Chew Out Loud. Suddenly, I was ready to spice up my usual recipe a little bit. 🙂
While their recipe calls for adding brown sugar to their squash, I didn't since I already add sweet potatoes and apples to the mix. I didn't want to make my dish into too much of a dessert. I also had to adjust the oil and seasoning a bit since I had more to roast overall.
The resulting Roasted Cinnamon-Spiced Butternut Squash with Sweet Potatoes and Apples was delicious! (Even my little picky eater Josiah ate it well.) Not only is it a tasty side, but it is simple and healthy! This is a perfect dish for any meal throughout the fall and winter and would be a great new addition to your Thanksgiving table.
Note: Don't let the prepping of the butternut squash intimidate you. It seems tricky, but it's not that bad. I've learned that if you microwave it for a few minutes, that will make peeling it much easier. It will even help make it easier to cut up (butternut squash is a hard squash). Of course, be careful, as it will be hot! For more info on prepping your squash, you can check out this How-to from Simply Recipes.
Here's how I make this yummy fall dish.

Roasted Cinnamon-Spiced Butternut Squash with Sweet Potatoes & Apples

Ingredients
1 large Butternut squash, peeled, seeded, and diced (in about 1" cubes)
3 small Sweet Potatoes, peeled and diced (in about 1" cubes)
3 medium Apples, peeled and diced (in about 1" cubes) I used Gala apples, but any sweet variety of apple will work.
5 Tablespoons Olive Oil
1-1/2 teaspoon Salt
1 teaspoon Pepper
1 to 1-1/2 teaspoon Cinnamon
Instructions
Preheat oven to 425 degrees F.
Line baking sheet(s) with aluminum foil.
In a large bowl, stir squash, sweet potatoes, and apples together.
Drizzle oil over mix, and gentle toss/fold until all pieces are coated.
In a small bowl, combine salt, pepper, and cinnamon.
Sprinkle about 1/3 of the seasoning over the squash mix, then stir to evenly coat pieces. Then sprinkle another 1/3 and stir. Then sprinkle the remaining seasoning and stir until all pieces are evenly and thoroughly seasoned.
Spread squash mix out on prepped baking sheet(s) into a single layer so that the pieces are not over-crowded and will bake evenly. (I needed two baking sheets).
Roast about 35-40 minutes (depending on the size of your dicing – mine were slightly smaller, so it cooked faster), until squash is fork-tender. You may want to stir the pieces halfway through or rotate your pan to ensure even browning.
Get more ideas, recipes, & encouragement from this real-life mom as I experience God's faithfulness through the joy and chaos of motherhood.

Join my email list!  
YOU MAY ALSO LIKE:
7 Simple Dishes Your Child Can Make for Thanksgiving