Jump to recipe
About six or seven years ago, I finally got brave enough to try making my own pumpkin puree. Once I did it, I realized it wasn't very intimidating or difficult at all, plus it's absolutely delicious. (It also freezes well). Of course with lots of fresh pumpkin on-hand, I had to find new recipes to use it in, besides just pumpkin pie.  
Thankfully, the internet loves pumpkin recipes in the fall, so my options were nearly limitless. We've had everything from pumpkin ice cream and cinnamon sugar pumpkin seeds to pumpkin cornbread and pumpkin soup, with all kinds of goodies in between. However, of all the recipes I've tried, only one has become our must-have fall pumpkin tradition: Old Fashioned Pumpkin Cookies.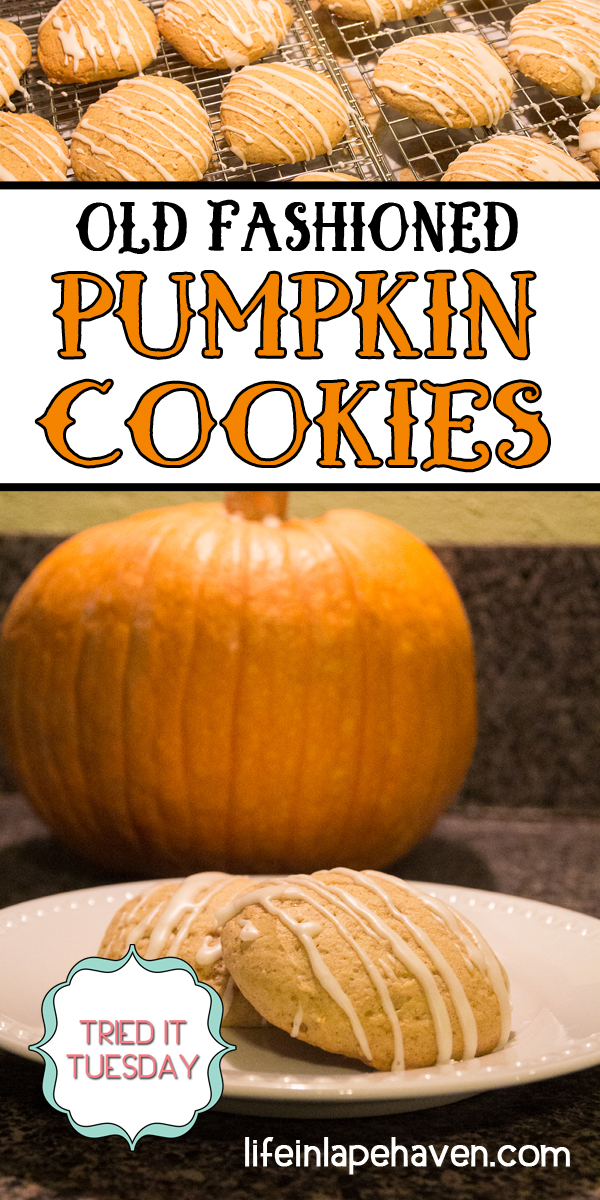 Old Fashioned Pumpkin Cookies
The first time I made them, our family fell in love with these yummy, super soft cookies, so I made more to share with Brad's family. The cookies were a big hit with them, too, especially with Brad's grandpa, who wasn't in the best of health and living with Brad's parents at the time. He was a very picky eater, so when he talked about how much he liked those cookies, I took it as a big compliment and determined to make them for him as often as I could.
Later, during one of his short stays in a nursing home, Brad and I visited Grandpa, taking along pumpkin cookies for him to enjoy. While we were there, the nurse brought in Grandpa's medicine for him to take, and I watched with a great deal of amusement (and a bit of admiration) as he took his sweet time eating just one cookie – like, 15 minutes, at least – just to avoid taking his pills. (Even the nurse was amused, albeit a little frustrated with him). I have no doubt that the other cookies were eaten much quicker when the nurse wasn't around. 🙂
Because of Grandpa, who passed away several years ago, these cookies have become a special tradition for more than just how delicious they are. To this day, I can't think of pumpkin cookies without thinking about him. Each time I make these pumpkin cookies, I smile at the memory of how Brad's grandpa always smiled when I brought them to him and how thoroughly he managed to enjoy one cookie in particular.
By the way, this is a really easy recipe to make, and while I prefer to use fresh pumpkin puree, you can use canned pumpkin. (If you'd like to try making pumpkin puree, this post from Somewhat Simple, Homemade Pumpkin Puree, explains it fairly well. This is pretty close to how I make my puree, with the only difference being that I put some aluminum foil over the top of the pan to keep the heat in, so it usually only takes about an hour to cook. You definitely want the smaller SUGAR PIE PUMPKINS, not the big jack-o-lantern kind.)
My recipe is adapted from Libby's Old Fashioned Soft Pumpkin Cookies. I use less sugar than the original recipe because they are sweet enough, especially when you add the icing. (I also make and use less icing.)
So, here's a new pumpkin cookie tradition for you to add to your fall must-makes:
Old Fashioned Pumpkin Cookies

This fall must-bake is a simple recipe for yummy, super soft pumpkin cookies drizzled with glaze. One of our family's autumn baked goods favorites.

Notes
I use a scooper/disher to drop out my cookie dough, and this recipe yields about 18 large cookies that way. You can definitely get more cookies if you use a smaller scoop or spoon for the dough.

Ingredients
Cookie Dough
2 1/2 cups Flour
1 tsp. Baking Soda
1 tsp. Baking Powder
1 tsp. Cinnamon
½ tsp. Nutmeg
½ tsp. Salt
1 cup Sugar
1 stick (1/2 cup) Butter, softened
1 cup Pumpkin Puree
1 Egg
1 tsp. Vanilla
Icing
1 cup Powdered Sugar, sifted
1-2 Tablespoons Milk
1/2 Tablespoon Butter, melted
½ tsp. Vanilla
Instructions
Preheat oven to 350. Grease baking sheets or line with parchment paper.
In medium bowl, whisk together dry ingredients (flour, baking soda, baking powder, cinnamon, nutmeg, & salt).
Cream softened butter and sugar together in large mixing bowl until light and fluffy.
Add in pumpkin, egg, and vanilla, beating together until smooth.
Slowly add in flour mixture, a little at a time.
Drop batter in rounded spoonfuls onto baking sheet. (I use a scooper/ disher to dip out my cookie dough, so my cookies are usually larger)
Bake at 350 for 15-18, until edges are firm.
Remove from the oven and let cool completely before icing.
To make icing
Whisk together sugar, milk, butter, and vanilla until smooth. You can also add a dash of cinnamon and nutmeg to the icing.
Using the whisk (or a fork or spoon), drizzle the icing over top of each cookie, or use a knife or spatula to ice the cookies on top.
Get more ideas, recipes, & encouragement from this real-life mom as I experience God's faithfulness through the joy and chaos of motherhood.

Join my email list!  
YOU MIGHT ALSO LIKE:
Easy Chewy Peanut Butter Cookies
Cinnamon Rolls for a Really Good Day
The Legacy in an Apple Pie Recipe