I was ten-years-old when God first sparked a heart for a mission trip in me. While I knew that we needed to share the gospel with others all over the world, being a missionary, in my young mind, was only for someone who spent their life preaching in a remote village somewhere.
I didn't know you could do short-term missions until a group of teenagers with Teen Mania visited our church. They ministered with a drama and gave testimonies of what God had done on their recent one-month mission trip.
From the moment I heard them sharing their experiences, I knew that one day, I would be going somewhere on a mission trip, too. In fact, I began looking forward to turning 16, not so that I could drive, but because that was how old I had to be to go with Teen Mania on a trip.
As it turned out, I waited 7 years for that dream's fulfillment, but it was worth it. My senior year in high school, my youth pastor announced that our youth group would be going with Teen Mania to Mexico that summer. Everyone knew that this was "my" trip.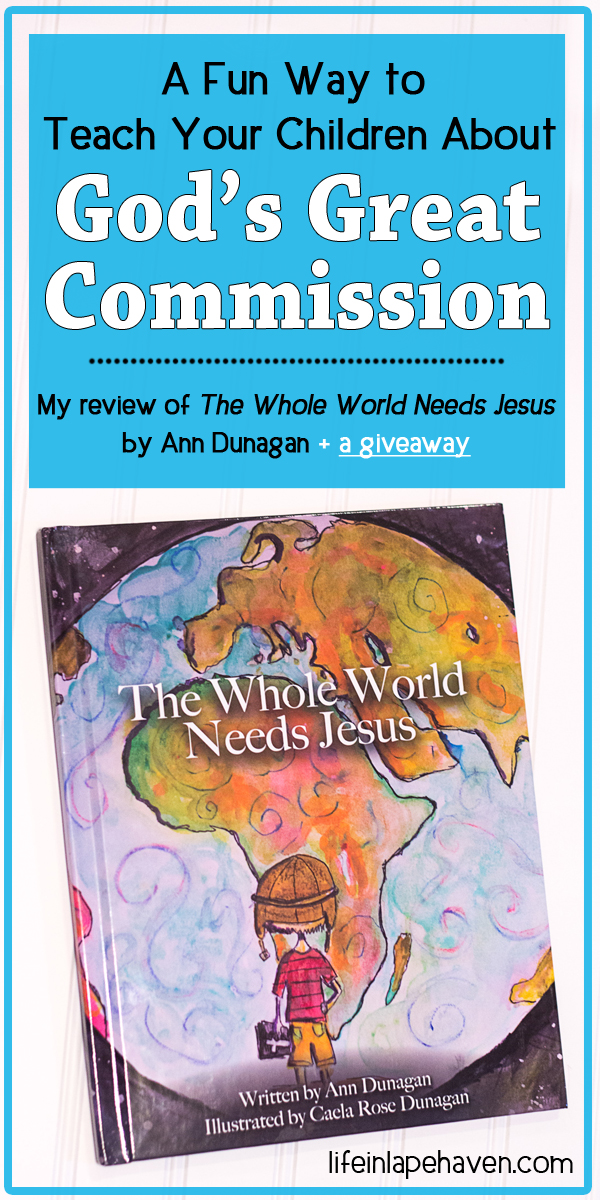 While God didn't call me to be a full-time missionary, those weeks in Mexico deepened the passion I already had for ministering in my own city and gave me a better understanding of how to pray for and support those serving around the world as missionaries. It also gave me the desire to go on more short-term missions at some point.
Elijah's heart for the world started even earlier than mine. His was spurred on by a number of things, including a special offering project during his first year at vacation Bible school, Mommy sharing videos with him of how people in other countries live, and by being surrounded by mission-minded family members.  (Both my dad and Brad's dad have been on multiple mission trips each, and Brad has been on several trips himself.  I'm actually the least traveled of our family "missionaries," although Brad and I would like to go on a trip together and eventually take our boys, too.)
However, even when we aren't flying out of the country, our family is still passionate about reaching the world with the love of Jesus.
So when I saw Ann Dunagan's posts about her children's book, The Whole World Needs Jesus, I knew it was a book I wanted to read with our boys. When she requested volunteers to review the book, I signed up as soon as I could. (So, yes, I received a copy of the book for free, but as always, all opinions are my honest thoughts.)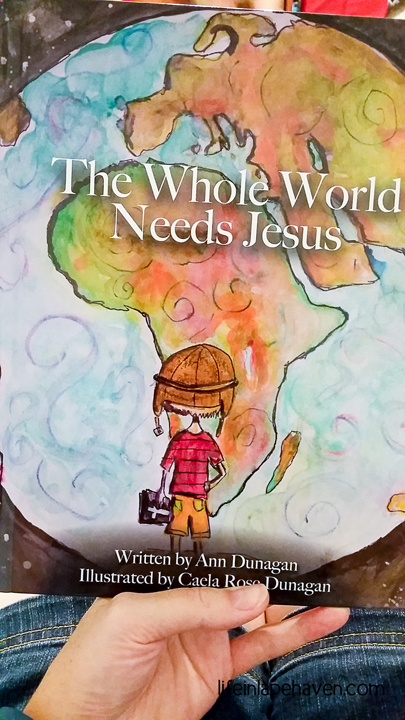 In case you aren't familiar with Ann and her family's ministry, she and her husband, Jon, founded Harvest Ministry in 1987, and they have traveled with their family and shared the love of Jesus in about 100 countries and on every continent, starting new churches and caring for orphans.
As parents of 7 children and now grandparents as well, part of the Dunagans' ministry is encouraging Christian families to become strategic for God's Great Commission, and they offer mission-minded books and resources for families on their website, MissionMindedFamilies.org.
The Whole World Needs Jesus is Ann's newest book, an adorable hardcover children's story with a fun rhyming style; engaging, colorful illustrations (drawn by the Dunagans' daughter, Caela); and most importantly, a message that focuses on fulfilling the Great Commission no matter where we are, how old we are, or how different the people are to whom God sends us.
As a Christian mom and a children's church teacher, I've read my fair share of children's books over the years. And while there are some books that you read to your kids just because they like them, this book definitely falls into the category of "books you ALL actually enjoy reading together."
The first time my boys read it, I had my 7-year-old read it out loud, so I could have the fun of watching their expressions as they heard the story and reacted to it (especially the surprising or funny parts) and delighted in exploring all the drawings.
And since this IS a children's book, I wanted to get my kids' thoughts on it, so we read it a few more times over the next couple of weeks before I asked them for their opinions.
Here's what they had to say:
Elijah (7): "I like the illustrations because they are funny. The book tells you that you need to tell people about God. That everyone needs to know about Jesus. People have sinned, and we need to share that Jesus loves you."
Josiah (4): "I like it because it tells Jesus around the whole world. I like it because they get them to listen to good stuff. They tell people who live in igloos and shacks."
Kishona (n/a) 😉 :  "One of the main themes in the book is that no matter how different someone is from us (where they live, what they look like, what they live in, what they eat, what language they speak, or how old they are) – God loves them and has given us a part to play in letting them know that. My boys were giggling over the different foods suggested, but they were also fascinated at this tiny glimpse into the different cultures and peoples around the world. That's a great conversation starter and an opportunity to talk about compassion and thinking of others, as well as being grateful for all that we often take for granted in our own country.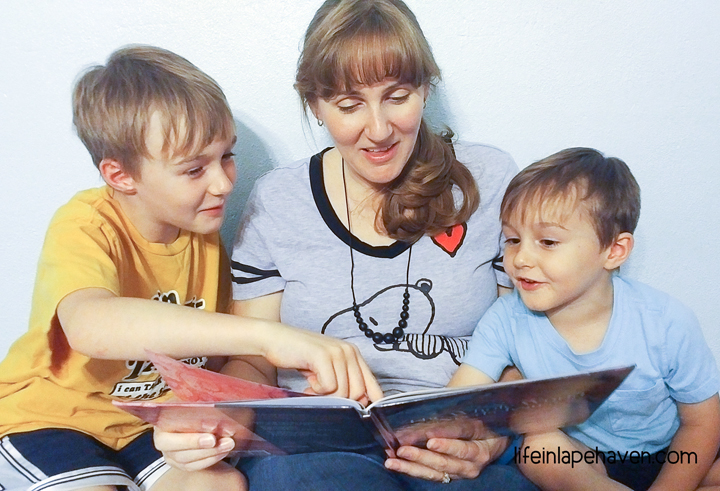 The book also reminds the children that every believer has a job to do to reach the lost, whether it's actually 'taking the Good News to all those far away' or being among those 'who will help, who will give, who will kneel down and pray.'"
It's so important that we instill into the next generation the very foundational Biblical call to share the gospel with everyone they can, fulfilling God's Great Commission – whether it's kids in their school or someone on the other side of the globe – and this book is a wonderful, engaging, and memorable tool to help us do that.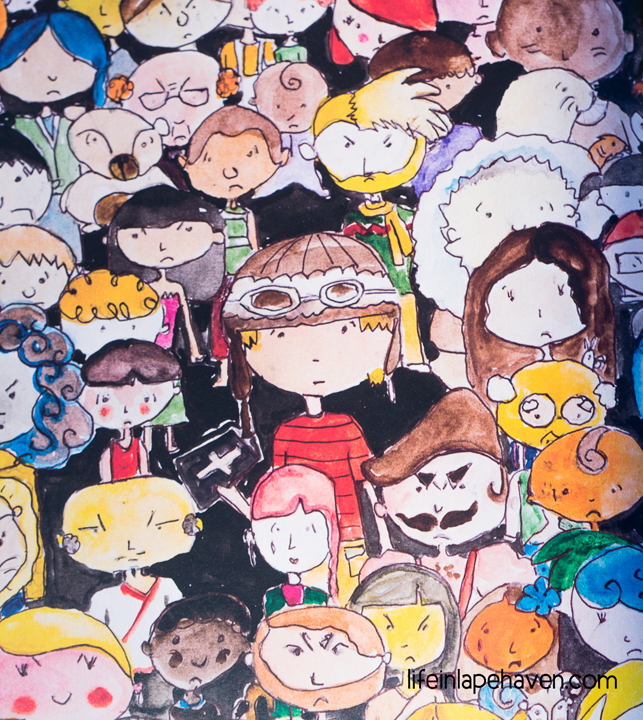 If you would like to get your own copy of The Whole World Needs Jesus, you can visit Ann's site, MissionMindedFamilies.org. (This would be a great Christmas gift for your kids or grandkids or as a donation to your church's children's ministry).
I'm also very pleased to offer a copy of The Whole World Needs Jesus for one of my readers via my giveaway below! (I'm keeping our copy, though. Haha!)
a Rafflecopter giveaway
Thanks for entering! This contest is open to residents of the U.S. only and runs from Friday, October 13 (12:00 a.m.) through Thursday, October 19, 2017, at 11:59pm EST (I know, specific.).  The winner will be notified by email within 48 hours of the contest ending. Winner has 48 hours to respond before another winner is selected.
YOU MAY ALSO LIKE:
Why Our Child Goes to Public School
For Such a Time as This: Placing Our Children's Future in God's Hands
Growing Up on Manna: How Your Struggles Can Build a Legacy of Faith for Your Children