Winter has finally decided to make an appearance this week in Ohio. You know, since it's January and all.
With the weather cooling down to "cold," yesterday I decided that the boys and I would have some fun on Elijah's last day of winter break by making the very first thing I ever tried after I discovered Pinterest.
I'm sure you all remember your first Pinterest project. You either created an inspiring masterpiece that gave you the confidence to attempt another awesome Pinterest DIY or copycat recipe soon after, or you tragically face-planted with an epic Pinterest fail that may or may not have been featured on one of those "Nailed It" memes that make the rounds on Facebook.
Thankfully, my first Pinterest-inspired activity was a huge success, not only because it was easy and turned out as expected, but also because Elijah loved it. It's been one that we've come back to often.
Like yesterday.
Hello, again, homemade play-dough (or playdough, however you want to space it). 🙂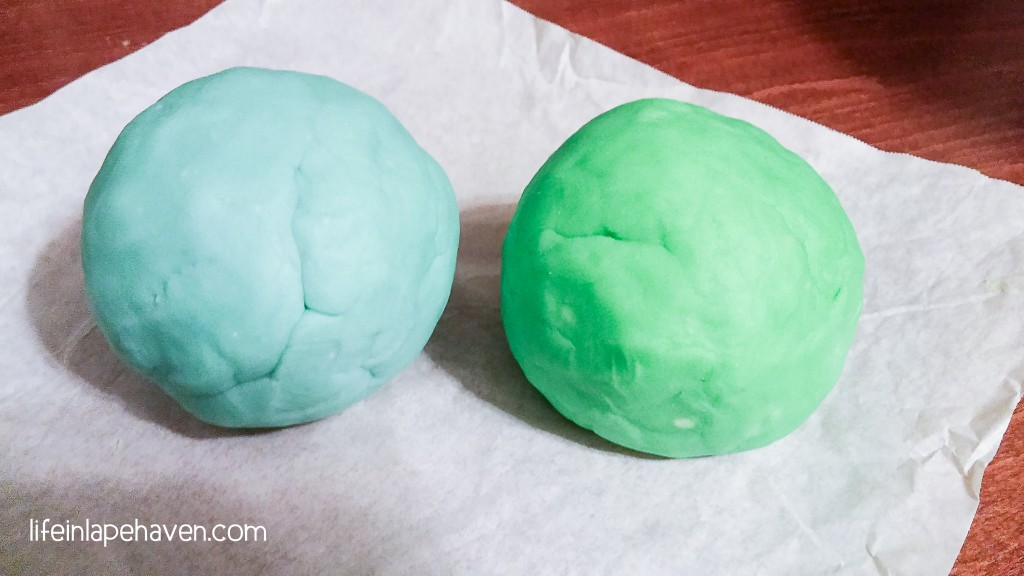 Yep. Play-dough cemented my Pinterest love.
Elijah found that play-dough also cements itself when a little boy leaves it out overnight, but thankfully this homemade dough is easy and inexpensive enough to make (all the ingredients are already in your kitchen) that I can just toss it when it gets forgotten and dried out or when someone steps on it on the floor. Because you know some of it WILL end up on the floor.
(Honestly, I have a bit of a love-hate relationship with all makes and brands of play-dough because while it's fun and we all love it, it can create quite a mess, or rather the children playing with it can. Fortunately, this dough cleans up pretty easily.)
We've made several batches with this recipe over the last few years. We've even given it away as part of Christmas presents to my nephews one year.
When I told Elijah yesterday that we would be making more, he was so excited that he ran across the room and gave me a giant, dramatic hug.
While I planned to make it in the afternoon, we HAD to do a bit of grocery shopping despite the cold, so we ended up putting our play-dough together right before dinner.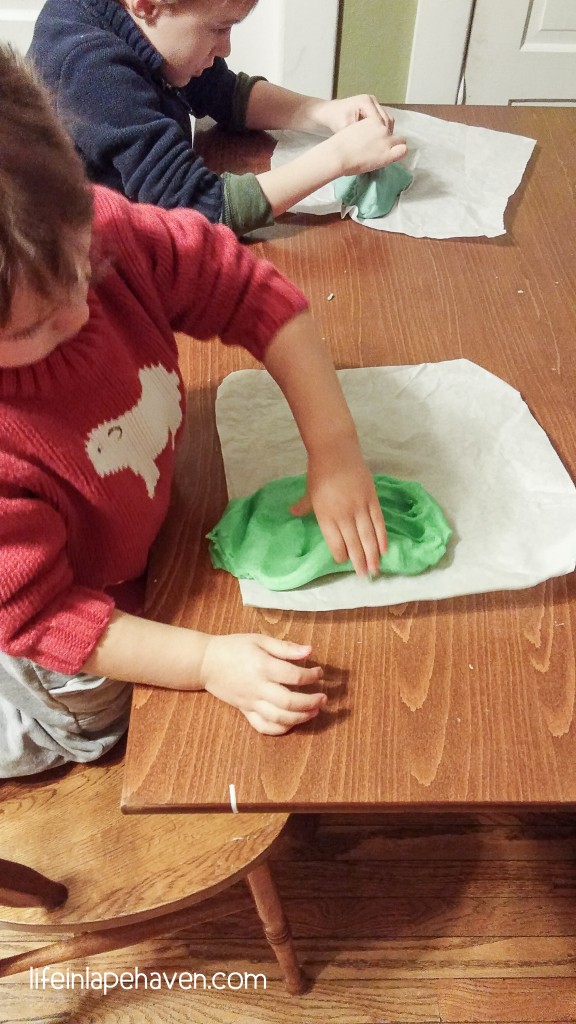 This actually worked out rather well. They each got to help dump in the ingredients and stir up their own batch, and then once the boys each had their dough, they were happily entertained at the kitchen table, leaving me alone to cook dinner.
Perfect.
So, whether you need an easy indoor boredom buster, or just want a few moments of peace, this quick homemade play-dough recipe from How Does She? is a great solution.
For outdoor fun, when it's not so cold, you can also try one of our other favorites: Homemade Sidewalk Paint.
I really do love Pinterest. You can follow me and keep up with all the fun, helpful, yummy, and/or insightful things I find.
YOU MAY ALSO LIKE:
My Kids' New Favorite Board Game