Jump to recipe
I have a pretty great husband. I do. Not only is he a Godly man who loves me and the boys and works diligently to take care of us, he is my number one fan in everything I do. He helps cover my slack around the house when I'm working on projects, even cleaning the bathroom, and he stays up with me on those late nights when my blogging inspiration is a little delayed, so that he can proofread for me and just be with me.  (It's okay to say, "Awww." He's totally a sweetheart.)
So the other day when I was itching to bake something sweet, I thought of him and his recent comment about craving some good peanut butter cookies.
I don't think I've made peanut butter cookies since we've been married, so I had to do some online searching to find a recipe that sounded like a winner.
After reading through a couple of recipes and their comments, I decided on this one, Thick and Chewy Peanut Butter Cookies from Dessert Now Dinner Later, mainly because I know Brad likes chewy cookies, and she also mentioned that you can just scoop and bake these cookies rather than rolling them and pressing them with a fork.
Josiah was on-hand to be my assistant, which usually means it takes me way longer to make something than it would if I were doing it all myself, but I know that he gets such joy in being my "big helper boy," that it's worth the extra time, mess, and occasional frustrations that come with little ones helping in the kitchen.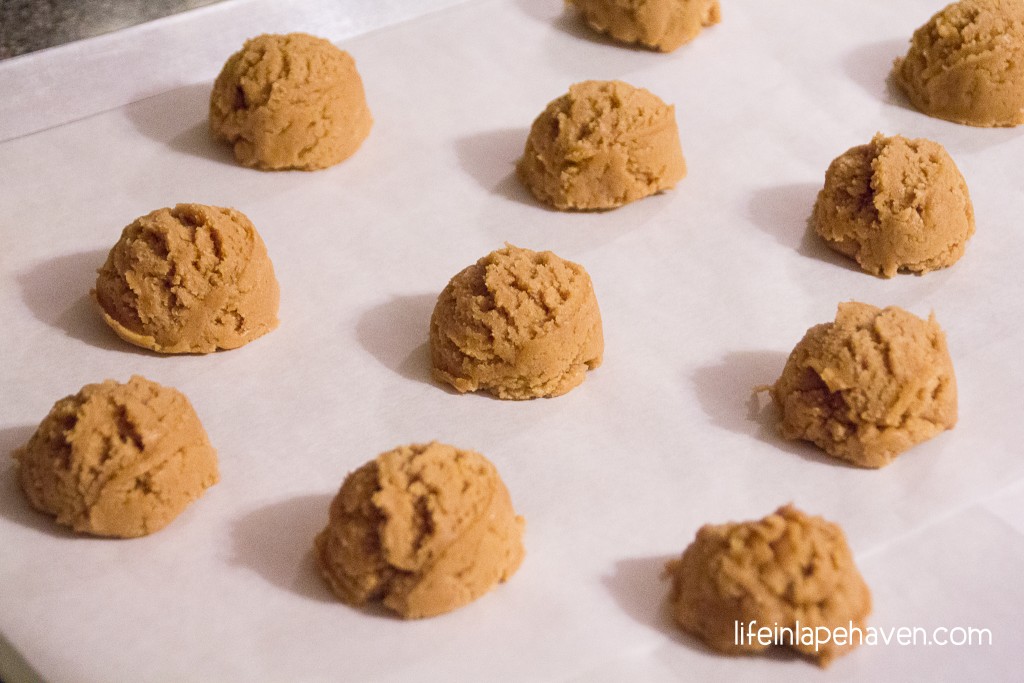 These cookies are super easy. It's just a matter of creaming your butter and sugars, mixing in your peanut butter, egg, and vanilla, and then adding your dry ingredients. From there, you scoop your cookie dough out onto the baking sheet, bake, and enjoy.
The first time I made these, I let them bake a little too long. The scooper I used was larger (#20) than the one the author used for hers (#30), so I adjusted the time…but a bit too much. On the plus side, the cookies were huge! 🙂
However, the cookies were still really good. Brad was pleasantly surprised to come home to homemade peanut butter cookies, and the boys loved them, too.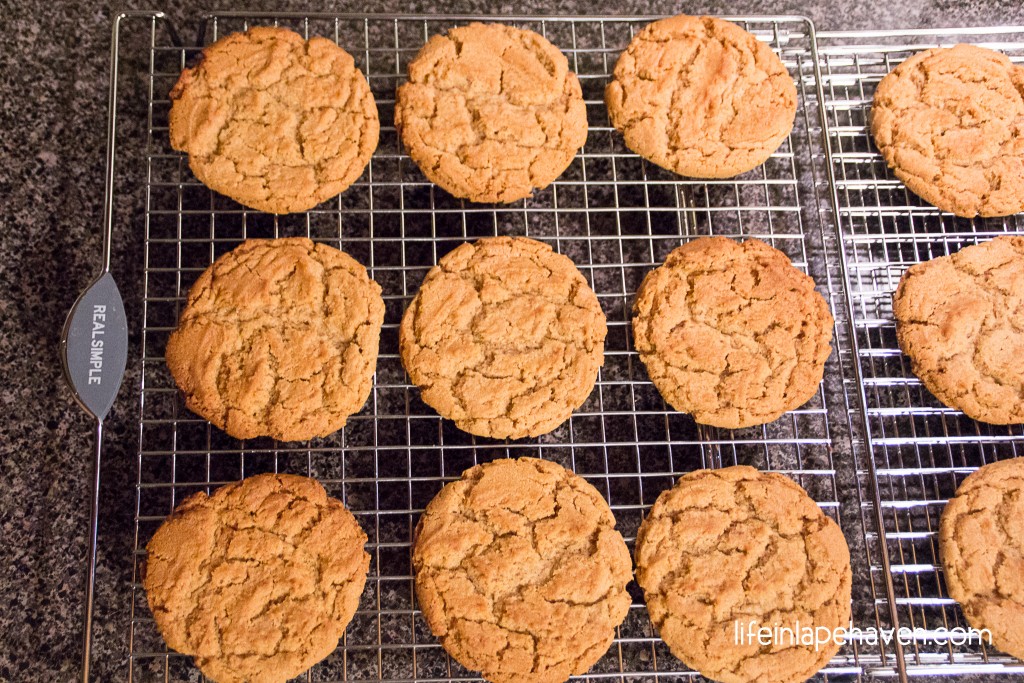 Since I knew the cookies could have been better, I had to do a second batch a few days later with the intent of getting the right cooking time. No one in my house complained about more cookies. This time I pulled them a couple minutes sooner, and they were even better than the first ones.
So now I have a tasty, easy go-to recipe for peanut butter cookies on the days that I want to do something a little special for my hard-working, giving hubby. (Awww – yes, I'm a sweetheart, too. Hahaha)
By the way, even though I haven't tried it – yet – I'm pretty sure you could create a variation on this cookie by subbing out the peanut butter for hazelnut spread. Mmmm. I considered doing that, but Brad is not a fan of hazelnut spread. Or you could mix in some chocolate chips with the peanut butter cookies because chocolate + peanut butter = yumminess. I have also seen people put marshmallow creme and melted chocolate between two peanut butter cookies to make a fun cookie sandwich.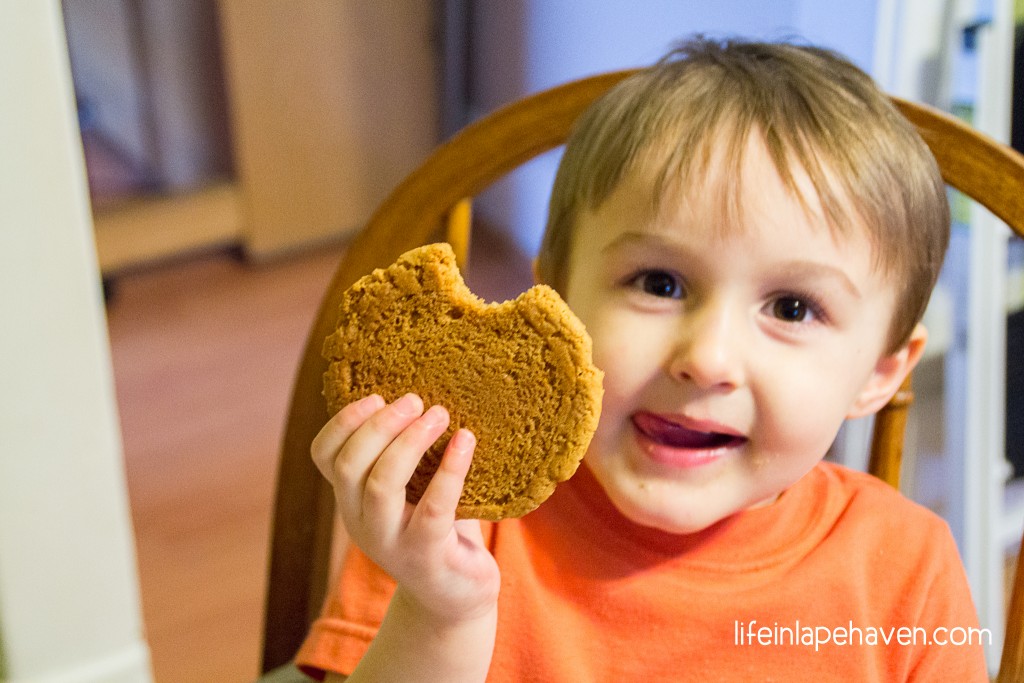 Okay, now that you're hungry for delicious, chewy peanut butter cookies, here's the recipe. Enjoy!!!
Easy, Chewy Peanut Butter Cookies

A simple, and simply delicious, chewy peanut butter cookie recipe.

Ingredients
½ cup Butter (1 stick), softened (If you use unsalted butter, add 1/2 tsp. Salt)
½ cup Sugar
½ cup Brown Sugar
½ cup Creamy Peanut Butter
1 Egg
1 tsp Vanilla
1½ cups Flour
1 tsp Baking Soda
Instructions
Preheat oven to 350 degrees.
in a large mixing bowl, cream together softened butter and both sugars.
To the butter mixture, add the peanut butter, egg, and vanilla. Mix thoroughly.
Combine flour and baking soda (and salt, if using unsalted butter). Add flour mixture to peanut butter mixture, mixing until just combined.
Scoop out dough by spoonfuls or using a disher, placing onto parchment- or silicone-lined baking sheet. (A #30 disher holds about 2 Tbsp, while a #20 holds about 3-1/3 Tbsp.)
Bake 10-12 minutes or until the cookies are just set (Bake slightly more if making larger cookies).
Allow cookies to cool slightly before moving them to a cooling rack to cool completely. (Or enjoy them warm!)
YOU MAY ALSO LIKE: