Jump to recipe
One of the many things I love about summer and this time of year is that you can get all kinds of fresh fruit and veggie. I especially look forward to all the berries – blackberries, strawberries, raspberries, and blueberries.
There are so many yummy ways to enjoy fresh berries, but the down side is, if you don't eat them or make something with them, they will go bad quickly. (Booo.) Sadly, this week I had to throw out some once-upon-a-time beautiful strawberries that I had only had for a couple days. It was so disappointing. Looking around at the containers of blackberries and blueberries nearby, I was determined to make good use of those other berries that I had purchased at the same time as the strawberries before they, too, got mushy, moldy, and yucky.
The blackberries were my first concern because they tend to have a shorter shelf life than blueberries. Plus, I already have a great recipe for blueberry hand pies.
So, the hunt was on for a new blackberry recipe that would use up my 12 ounces of tasty blackberries and one that wouldn't be too involved. (It's VBS week here, so our days are busy.)
Thankfully, I found one quickly, and before long the boys were anxiously awaiting their first taste of homemade blackberry muffins.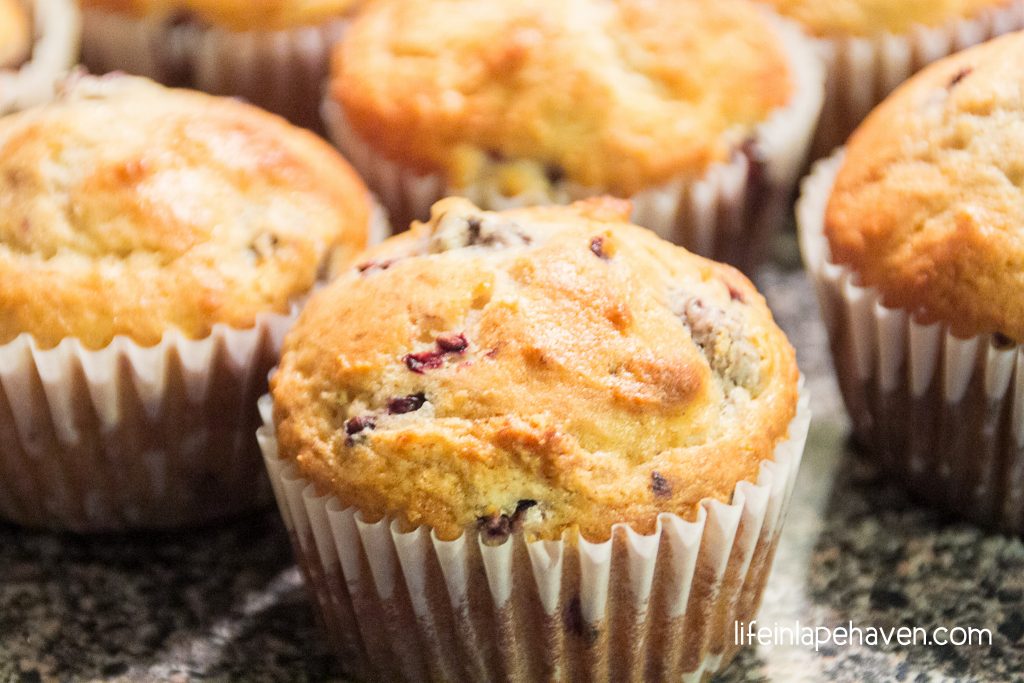 This recipe was very easy to put together – mix your dry ingredients, mix your wet ingredients, combine them all together, add your berries, fill your tins, bake, EAT. Plus, muffins are perfect anytime of the day – breakfast, snack, dessert, or anytime this expectant mommy is hungry…again. 🙂
According to Simply Recipes, where I got this blackberry muffin recipe, the secret to these muffins being tender and fluffy is the sour cream. However, for my version, I used plain Greek yogurt instead of sour cream because it's what we had, and it worked out wonderfully. I also used a bit more cinnamon.
I found that my muffins could have actually come out of the oven EARLIER than 17 minutes, which was the shortest cook time given. I would say maybe 15 minutes would have been perfect. Since my muffins overcooked just a smidge, they were a little drier than I had hoped once they cooled. But they are still yummy. Oh, and just a reminder:  expect some seeds since you're baking with blackberries. 🙂
Overall, these are definitely some muffins I'll be baking again. I may even try them with blueberries instead of blackberries, maybe in the next few days since I have some blueberries that I don't want to go bad.
Here's how I made Homemade Blackberry Muffins.
Homemade Blackberry Muffins

Delicious, quick, and easy homemade muffin recipe using fresh blackberries and a secret ingredient to give you tender, fluffy muffins.

Ingredients
2-1/2 cups Flour
1 Tbsp. Baking Powder
1/2 tsp. Baking Soda
1/2 tsp. Salt
½ - 1 tsp. Cinnamon
2 Eggs
1 cup Plain Greek Yogurt or Sour Cream
1 tsp. Milk
1 cup Sugar
1 stick (8 Tbsp.) Butter, melted
1 tsp. Vanilla
1-1/2 cups fresh Blackberries (cut berries in half)
Note: You can use frozen berries, but make sure you defrost them first and then drain off any excess juices. Also, coat them lightly in flour.
Instructions
Preheat oven to 400 degrees.
Prepare 2 (12-cup) muffin tins by either greasing them lightly or using paper liners. (This recipe makes about 18 muffins when you fill the muffin cup all the way.)
In a large bowl, whisk together the dry ingredients: flour, baking powder, baking soda, cinnamon, and salt.
In a medium bowl, whisk together the wet ingredients with the sugar: eggs, Greek yogurt, milk, sugar, butter, and vanilla.
Combine the wet ingredient mixture with the flour mixture, stirring only until everything is moistened. (Avoid over-mixing as this creates a denser muffin).
Gently fold in the blackberries.
Batter will be a little lumpy and thick, almost like cookie dough.
Fill the muffin tins with the batter. I like to use a scooper, especially with a thicker batter.
Bake at 400 degrees, 15-20 minutes, until a toothpick inserted into the middle of the muffins comes out clean. (I would check the muffins at 15 minutes.)
Let muffins cool a few minutes before removing from the muffin tins. These are best when served warm.